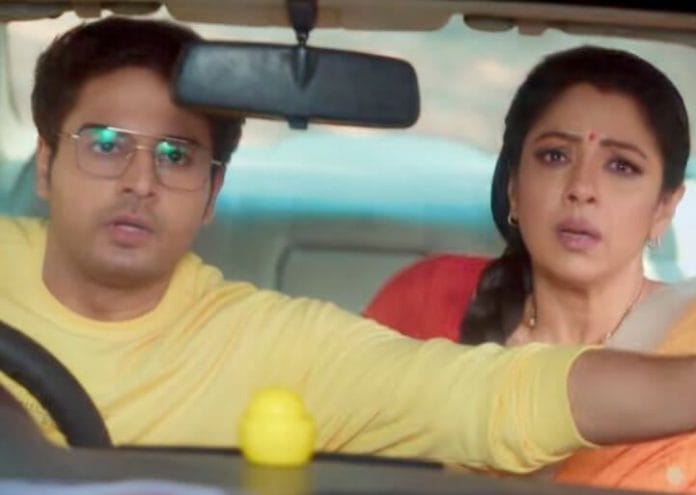 Anupama 5th January 2023 Written Update on TellyExpress.com
In today's episode, Hasmuk asks Anupama whom she was going to correct. He takes Paritosh and Pakhi's name and asked if she was going to correct them. Hasmuk says Paritosh and Pakhi aren't worth giving time. He says Leela is exceptional case too. Hasmuk asks Anupama to handle her house, husband and Anu. Anuj says to Hasmuk that it is good he return. He says nothing is well. Anuj adds he is done and fed up of daily drama. He says he can't take Shah's drama more. Anuj says to Anupama that Shahs don't belong to them and he will not take the drama more. He takes a resolution to make a fresh start apart from Shahs. Anuj says to Anupama that she is emotional and because of it they are on a road to get destroyed. He asks Anupama to let Shahs deal with their problems alone.
Anuj says he wanted to celebrate New Year's Eve with Anu, Anupama but he is dealing with Shahs' drama. He asks Anupama to stop giving her shoulder to Shahs. Anuj says to Anupama that it is high time she should take a New Year resolution to stay away from Shahs. He further asks Vanraj to take care of his family. Anuj breaks down. Adhik holds Pakhi's hand and move out from the house. Hasmuk folds hand in front of Anuj. Vanraj takes Shahs away from Kapadia house. Anupama, Anuj stands teary.
Anuj walks away. Anupama stands alone. Shahs return back to their house. Kavya serves water to Hasmuk, Leela. Vanraj accuse Kavya for lighting the fight. Vanraj asks Kavya if she isn't enough disrespecting him at Kapadia house. Both argue with each other. Vanraj realises they drag Anupama, Anuj in their house matter. He assures to take up the responsibility. Vanraj refuses to take the Delhi job. Kavya gets angry. Vanraj expects Shahs welcome New Year with positivity.
Anupama asks Anuj if he is fine. Anuj nods. He says he vented out still he is upset. He asks Anupama to leave him alone. Vanraj says to Kavya that he knows she is upset with him for rejecting Delhi job offer. Kavya says to Vanraj that he made one decision and it's time for her to make a one.
Adhik, Pakhi decides to make a new start. Paritosh demands Kinjal to join him for New Year party. Kinjal refuse to go along. Both argue with each other. Elsewhere, Barkha and Ankush argues with each other. Leela asks Hasmuk to sleep. Hasmuk waits for her death. Leela cries. [Episode Ends]
Precap: Anupama decide to write a new story in a new year.
Also See: