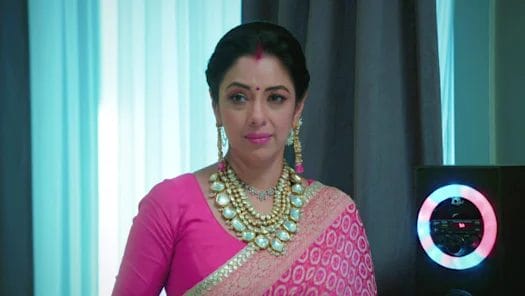 Anupama 5th July 2022 Written Update on TellyExpress.com
In today's episode, Leela raises question on Pakhi and Adhik's friendship. Pakhi defends herself and accepts Adhik's friendship. Vanraj says in India such things are not acceptable. Pakhi says but extra-marital affair and marriage at 50 is acceptable but not a normal friendship between two young people. Leela against Pakhi. Paritosh says to Pakhi that her friendship is not acceptable.
Pakhi asks when he can marry his girlfriend by escaping, Samar can have girlfriend and can get everyone's support than why none can accept her. She confesses that Adhik was the reason for her adamant behaviour to go to Anupama's house. Everyone stand stunned when Pakhi declare she likes Adhik. Adhik says he too likes Pakhi. Vanraj goes mad at Pakhi.
Anupama asks Vanraj to stop shouting and let them think what to do next. Vanraj says he can't see Adhik ruining Pakhi's life. Anupama says Pakhi is her daughter too. Vanraj asks Anupama to do something in the matter. Rakhi enjoys the drama. Anuj give his support to Anupama and says Adhik and Pakhi are adult and developing feeling is common. He asks Vanraj instead of losing his cool they should show Pakhi and Adhik a right direction. Pakhi stands with Adhik.
Also, Read in Hindi :-
Rakhi put oil in the fire and congratulate Kapadia's for fixing another relationship with Shah's. Kinjal asks Rakhi to leave the place else she will do something bad. Leela and Anupama ask Kinjal to go to her room. Anupama ask Pakhi to go to her room too. Pakhi refuse to listen to Anupama. She question if Vanraj's affair and Anupama's marriage is right than why it is hard for everyone to accept his friendship with Adhik.
Samar says to Pakhi that can't she wait for the right time to do drama. Pakhi says why she should wait for the time. Anupama gives a befitting reply to Pakhi and says she can't talk about Vanraj but can give her explanation. She defend her love for Anuj and says once she established her career she took the step. Anupama asks Pakhi did she know what she wants in her life. She says if she can talk in front of everyone with Adhik. Anupama asks Pakhi to go inside. Vanraj too asks Pakhi to go to her room. Pakhi refuse to go inside until Adhik asks former to leave the place.
Vanraj insult Kapadia's. Anupama asks Anuj, Ankush, Barkha to go back home. Vanraj says to Anupama that she is responsible for the mess. Anupama accepts and leaves the place. Barkha goes mad at Adhik for liking Pakhi. Anuj and Sara ask Adhik to tell the truth. Adhik accepts his friendship with Pakhi. Anupama worries. Samar asks Anupama not to stress as they will handle the situation together. [Episode Ends]
Precap: Vanraj decide to separate Adhik and Pakhi. Adhik asks Pakhi not to lose hope and fight for their friendship.
Also See: