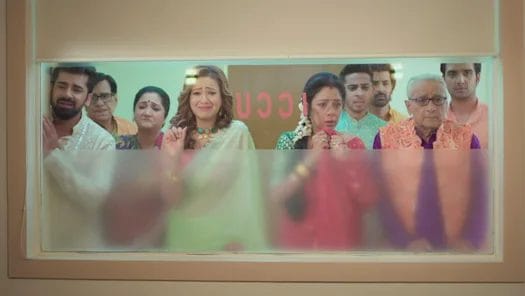 Anupama 6th September 2022 Written Update on TellyExpress.com
In today's episode, Anupama put Anu to the sleep. She recall Rakhi and Paritosh's word and gets disturbed. Leela says happiness brings fear along. Vanraj and Anupama pray to protect the happiness. Paritosh stand teary. Rakhi adores Kinjal and baby. Anuj falls down from the bed. Anupama worries for Anuj. She calls out for GK. Anu wakes up and asks Anupama what is happening to Anuj. GK, Ankush, Adhik and Barkha run to see Anuj. Anu asks GK what happened to Anuj. GK console Anu. Anu pray for Anuj's recover. Adhik calls doctor. Doctor assures Anupama that Anuj is fine.
Anu and Anupama thanks God. Anupama asks doctor what happened to Anuj. Doctor told Anupama that post brain surgery body reacts. He asks family member to be with Anuj as he can't be handle by nurse alone. Doctor asks Kapadias to make sure Anuj doesn't fall down or get bumps into something.
Ankush and Barkha recall Anuj fallen from wheel chair. They ask Anupama not to worry as they will be with them at their hard time. Anupama thinks about Kinjal's baby and cries seeing Anuj. Adhik decide to bring Anuj's medicine. Pakhi and Samar decorates the house to welcome baby.
Hasmuk and Leela join them. Pakhi talks about the cot brought by Rakhi. Leela bring old cot and says Kinjal's baby will use it too. Pakhi, Samar and Hasmuk go against Leela. They call her old fashioned. Leela ask Pakhi and Samar to sleep. Paritosh come back.
Also, read in Hindi:-
Anupama think about doctors' advice for not leaving Anuj alone. She worries thinking about Kinjal and her baby. Anupama asks God to stop testing her this time. Pakhi, Samar and Paritosh talks about raising the baby. They get excited to welcome baby. Pakhi and Samar asks Paritosh to sleep into another room as they are going to decorate the room for the baby. Samar asks Paritosh why Rakhi was behaving weird with him. Paritosh says Rakhi was just angry because he was late. Anupama wish to be with Anuj, Anu and Kinjal too. She wants to live the moment.
Anuj wakes up. Anupama and Anuj share quality time. Anuj sees the bruises and worries how it happened. Anupama sit confused post she learn Anuj is suffering from partial memory loss. She stops Ankush and Barkha from disclosing the truth to Anuj.
Kinjal asks Rakhi if she didn't sleep. Rakhi says she was worrying about baby. She thinks about exposing Paritosh. Anupama decide to make Anuj recall the past. She shows Kinjal's baby picture. Anuj remembers about the baby. Anupama get happy. [Episode Ends]
Precap: Shahs wait for Kinjal and baby. Rakhi drives Kinjal and baby to her house. Vanraj and Paritosh get angry.
Also See: