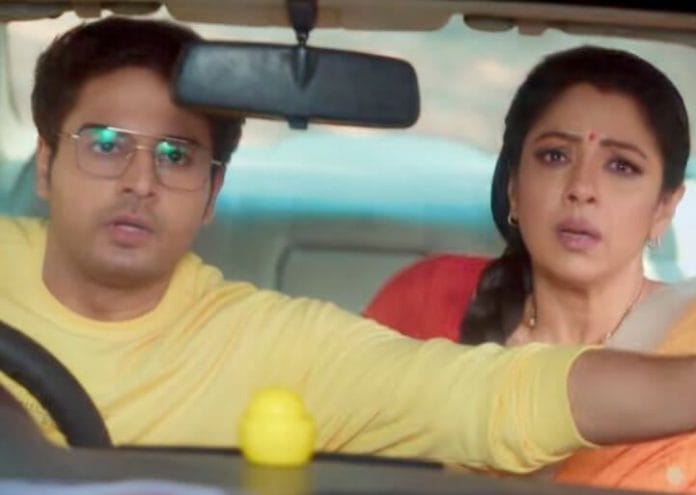 Anupama 7th January 2023 Written Update on TellyExpress.com
In today's episode, Anupama takes an evil-eyes off from Anuj. Anuj helps Anupama in drying her hair. Partiosh surprises Shah by telling him about his new business. He asks everyone how is his surprise. Leela taunts Paritosh over turning courtyard into office. Paritosh tells about his property dealing office. Kinjal asks Paritosh if the office movable. Paritosh says yes. Kinjal asks Paritosh to move to Africa. She questions his land and property dealing company. Paritosh asks Kinjal to not raise question on his passion. Leela beats Partiosh.
Partiosh convinces Shahs that one day he will turn businessman of the year. He dreams of growing his business. Vanraj says to set up new business they need funding too. Paritosh says he managed to get the investment. Vanraj asks from where. Paritosh asks Shahs to give him blessing and he will give details later. Kinjal ignores Paritosh.
Anupama asks Anuj to call back Anu. Anuj says Anu is happy with her friend. Both Anupama, Anuj decide to bring change in their relationship this year. Anupama hugs Anuj. Anuj gets a call from Majesthia. Anupama decide to serve breakfast to Anuj. Adhik gets surprised seeing neat and clean house. He thin he is dreaming. Pakhi makes Adhik realise that dream comes true. Adhik likes Pakhi's effort. Pakhi assures Adhik that she wants to become best housewives. Adhik asks Pakhi to come on a date with him. Pakhi and Adhik gets excited.
Ankush demands divorce from Barkha. Barkha refuse to give divorce to Ankush. Anupama informs Anuj that Ankush, Barkha, Pakhi and Adhik are not at home. She asks Anuj if it is important to go to the office today. Anuj assures Anupama that he will come back home soon. Anupama says I love you to Anuj. Anuj replies to Anupama.
Kavya gets ready. She calls herself hot. Vanraj worries thinking about Paritosh's business plan. Kavya says Paritosh is over smart. Vanraj says but he can't ignore him. He further gets shocked seeing Kavya making her dancing video. Anupama thinks about Anuj's word. She decides to fix her relationship.
Vanraj confront Kavya. Kavya tells to Vanraj that she will restart her modelling. Vanraj questions kavya Kavya asks Vanraj to either support her or she is enough to carry forward it alone. Vanraj stand stunned.
Anupama shares with Devika that she has planned a date for Anuj. Devika teases Anupama. Anupama asks Devika to help her in making date special. Devika gives weird ideas to Anupama. Anupama asks Devika to seriously help her. Devika gives an idea to Anupama. [Episode Ends]
Precap: Anupama plans date for Anuj. Anuj brings home someone. Anupama is stunned.
Also See: