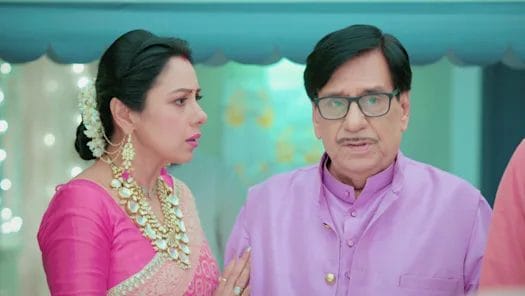 Anupama 7th July 2022 Written Update on TellyExpress.com
In today's episode, Anuj says to Anupama that like always she has to handle everything. He decide to be at Anupama's side and added he can fight too but Vanraj and Anupama's right is more to take decision on Pakhi's behalf. Anuj feels helpless in Adhik and Pakhi's matter. Vanraj apologize to sleeping Pakhi. He says she is not mature and got infatuation towards Adhik's lifestyle. Vanraj says he will get Pakhi a best education and will find a suitable boy. He decides to distance Pakhi from Kapadia's. Pakhi wakes up post Vanraj leaves her room.
Anupama says children today is getting influenced by social media. She adds even Parents are equally important in spoiling their children. Anupama add Pakhi will understand if talked politely. Anuj says they can make Pakhi and Adhik understand but what about Vanraj. Anupama says he has an equal right on Pakhi. Anuj asks Anupama to confront Adhik as she has a right too. Anupama and Anuj decide to support each other. Anuj console Anupama and cheer her up. They walk hand in hand. Anupama thanks Anuj for being her strength. Anuj thanks Anupama for becoming his wife.
Samar offers tea to Vanraj. He says to Vanraj that from past few days their relationships were getting better because he was right. Samar says to Vanraj that today he was wrong. Vanraj asks Samar what he would have done if other person would have done the same with him. Samar replies to Vanraj that Anupama taught him to support the right and person do not matter to him.
Also, Read in Hindi :-
Anupama confront Adhik about his relationship with Pakhi. Barkha says to Anupama not to stress as she has talked with Adhik, and he will keep a distance with Pakhi. Adhik takes a stand for Pakhi and his friendship. He says they have just started liking each other and nothing else. Anupama asks Adhik than what was the need to take Pakhi to the room. Adhik and others stand stunned. Anupama add one should always keep his/her family in the mind before doing anything. She asks Adhik to focus on career more.
Anupama say every Parent want to see their child successful. She says keeping a friendship is not wrong but they should go slowly. Anupama asks Adhik if he has befriended Pakhi than he should talk with her as she isn't going to understand anyone from now. She asks being a friend they should help each other in growing. Anupama asks Adhik if he didn't felt bad with her words.
Adhik assures Anupama that he will think over her words. He added he will never meet Pakhi alone. Pakhi talk with Adhik. She asks Adhik not to distance himself from her. Pakhi confessed that she likes him. Leela decide to stalk Pakhi. Pakhi and Adhik decide to hide about their meeting from family as they aren't' going to understand. [Episode Ends]
Precap: Vanraj drops Pakhi to the college. Pakhi meets Adhik. Anupama spots Adhik and Pakhi at restaurant
Also See: