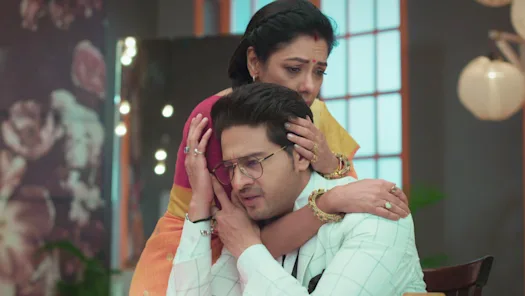 Anupama 8th August 2022 Written Update on TellyExpress.com
In today's episode, Anuj says to Anupama that Anu got tired and slept. He talks if Anu would have not called Hasmuk than both the families would not have united. Anupama thanks Anuj for inviting Shahs too for the puja. Anuj says they need to set boundaries for both the families. Vanraj says to Pakhi that she once again turned good daughter. He says he stalked Pakhi's social media. Hasmuk asks Vanraj why he is offending if his family went to Anupama. Vanraj says Anupama always make him evil in others eye. He adds since Anuj and Anupama took his family away from him than he wants their happiness gets ruined. He wish bad for Anuj and Anupama.
Anupama says no one can snatch her happiness. She takes evil eye off from Anuj and Anu. Anuj wish Anu gets a good upbringing like Anupama. Anupama says she wants Anu stay grounded like him. Vanraj says whatever he does he lacks behind Anupama and Anuj. Hasmuk says staying alone was his choice and he can't accuse Anuj and Anupama for the same. He announces they will pay visit to temple as Anuj invited them. Hasmuk says whosoever wants to come can join him. Kavya asks Vanraj why he is so stubborn. Vanraj says he can't stan Anuj. He says he is so angry with him that he is clueless what he will do next if Anuj comes in front of him. Leela and Kavya stand stunned.
Anuj asks Anupama if she is tired and need his help. Anupama wishes good for Anuj. Leela asks Vanraj to stop being stubborn and let not the night win over him. Vanraj says to Leela that he won't let night win and he will fix everything soon. Leela sit confused.
Anupama thanks Anuj for not revealing his decision on the occasion of Rakshabandhan. Anuj says he didn't want to spoil the festival. Vanraj think Anuj messed his life. Hasmuk share a talk with Leela and worry thinking if Vanraj will do anything bad due to his anger. Vanraj decide to execute his plan.
Anuj decide to stay away from Shahs and Barkha, Ankush. He further demands Anupama to deck up nicely. Anupama says upcoming puja is important. Vanraj message Anuj to meet him after puja. Anuj decide to hide Vanraj's message from Anupama. Vanraj decide to settle score with Anuj. Ankush decide to do something before Anuj throws them out on the road. He feels sorry. Anuj helps Anu in getting ready. Anupama gives a surprise to Anuj by performing a dance.
Shahs and Kapadia's gather together at the temple. They wait for Anuj and Anupama. Anupama and Anuj pray to God. She gets restless. Anuj console Anupama. Anuj and Anupama visit temple. Shahs compliment MaAn. Vanraj secretly watch Anupama and Anuj. Anuj and Anupama perform puja together. Kavya wait for Vanraj. Anupama stop Anuj from meeting Vanraj. Anuj manages to convince Anupama. He goes to meet Vanraj. [Episode Ends]
Precap: Vanraj and Anuj meet with an accident. Kavya and Anupama cries for Vanraj and Anuj
Also See: