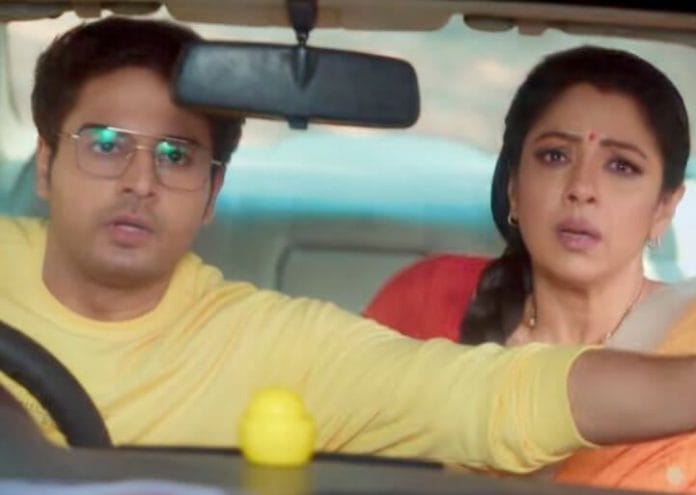 Anupama 8th January 2023 Written Update on TellyExpress.com
In today's episode, Devika asks Anupama to enjoy Anuj's reaction. Anupama asks Devika to stop teasing. Devika asks Anupama to stop blushing. Anupama asks Devika to pulling her legs. She says I love you to Devika. Anupama asks Devika to meet her on New Year. Devika assures Anupama.
Leela wait Shahs at dinning table. Paritosh asks Leela to make snacks for his clients. Leela gets offended. Kavya stuns Leela in a model dress. She calls Kavya shameless. Hasmuk says even Pakhi wear short clothes. Kavya thanks Hasmuk. She tells to Leela about turning model. Vanraj says acting is also a profession. Leela gets unconvinced. She further asks Kinjal to have breakfast. Kinjal says since PParitosh left the job her workload has increased. Paritosh asks Kinjal if she will not wish him luck. Kinjal calls Paritosh's idea useless.
Vanraj decide to drop Kavya. Leela says who will have her dhokala. Samar and Dimple comes and says they will eat. Leela asks Dimple where she is here. Samar says he called her because they have started morning batch for students. Dimple and Samar eats. Leela gets upset. Anupama dream about Anuj and dances. She romance with Anuj in her dream. Back to reality; Anuj returns back home. Anupama hugs Anuj and reads a romantic poetry for him. She confesses her love for him. Anupama gets shocked seeing someone standing on the door. She asks to switch on the lights. Dheeraj asks Anuj if he should come inside or should go. Anuj calls Dheeraj inside.
Dheeraj says to Anupama that he too heard the poetry she wrote for Anuj. Anupama stands embarrassed. Anuj tells to Anupama about Dheeraj being his childhood friend. Dheeraj teases Anupama over romantic step up. Anuj asks Dheeraj to stop pulling Anupama's leg. Anupama avoid Dheeraj. She further asks Dheeraj if he makes everyone laugh. Dheeraj says if laughs to supress his pain. Anuj and Anupama gets shocked. Dheeraj changes the topic. He demands Anupama to serve him food.
Anupama goes to bring food. Dheeraj teases Anuj. He further asks Anuj if everything is fine. Anuj says everything is fine. Both cracks joke. Anupama feel embarrassed. She wonders why Anuj said he is alone in his life due to the responsibility. Anupama decide not to over think.
Anuj asks Anupama if he can help her in cooking. Anupama refuse to take Anuj's help. Anuj decide not to let Anupama work alone in the kitchen. Anupama says sorry to Anuj. Anuj says to Anupama that he is sorry for not informing her about Dheeraj. Anupama says I love you to Anuj. Anuj's cold reply stunned Anupama. [Episode Ends]
Precap: Anupama is left teary learning Anuj don't consider her friend. Anuj spends time with Dheeraj.
Also See: