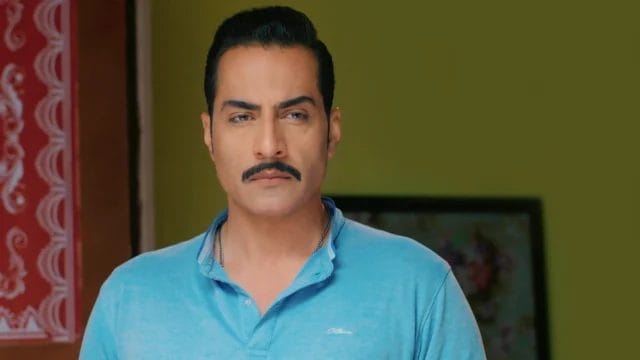 Anupama 9th August 2022 Written Update on TellyExpress.com
In today's episode, Ankush sees Anuj going. He calls someone. Anuj looks back at Anupama. Anupama stand stressed. She ray to God and asks to take care of Anuj. The auspicious thread gets loosen. Kavya learn Anuj went to meet Vanraj. Panditji asks to start the puja. Anu asks Anupama about Anuj. Anupama assure Anu that Anuj will come soon. Shahs and Kapadia's' performs puja together. Adhik and Pakhi share an eye lock. Anuj gets surprised seeing Vanraj sitting on driving seat. Kavya spots Vanraj driving Anuj. She chases Vanraj.
Vanraj speeds up the car. Anupama pray to God. Anu and others asks Anupama to stop as Puja already got over. Anupama gets a call. Samar receives a call. Everyone learns that Anuj and Vanraj meet with an accident. Inspector says it is hard to tell whether they will survive or not. Anupama stand stunned. She recalls her moments with Anuj. Anupama says nothing will happen to Anuj. Kavya cries for Vanraj.
Anupama and others reach the cliff. Anupama calls out for Anuj and sit stunned. Leela and Kavya worry for Vanraj. Shahs and Kapadia's gets stressed. Ankush asks Samar to control Anupama. Inspector asks to take Anupama to the side. Anupama refuse to listen to anyone. Samar hold Anupama's saree. Inspector inform car is not damaged which mean both Anuj and Vanraj might have fallen later. He says his rescue team is bringing the body. Anupama alerts inspector. She asks not to call it a body. Anupama think nothing will happen to Anuj until she is his wife.
Samar asks Inspector how he is sure that it is Vanraj and Anuj. Inspector informs Kavya saw them but she was too scared thus he called them. Shahs and Kapadia's asks Kavya to reveal the truth. Anupama asks Kavya to tell the truth. Ambulance brings Anuj and Vanraj in the meantime.
Kinjal console Pakhi. Jignesh asks Kinjal and Pakhi not to worry as nothing will happen to Anuj and Vanraj. Ankush find Adhik missing and worry where he left without informing. Kavya and Anupama cries for Anuj and Vanraj seeing their body. Ambulance takes Anuj and Vanraj. Kavya and Anupama run behind the ambulance. Police stops them. Rescue team inform that Anuj and Vanraj both are alive. Anupama thanks God.
Kinjal inform Dolly, Pakhi and Jignesh that Anuj and Vanraj is found. Anu prays to God for Anuj and Vanraj. Kinjal, Dolly and Pakhi cry seeing Anu's prayer. Shahs and Kapadias visit city hospital. Anupama, Kavya and others are not allowed to see Anuj and Vanraj. Anupama, Kavya stand shocked. [Episode Ends]
Precap: Ankush accuse Kavya for hiding the the truth. Anupama and Paritosh asks Kavya to tell if she saw what happened at the cliff. Kavya stand mum. Anupama and others learn Anuj and Vanraj are critical.
Also See: