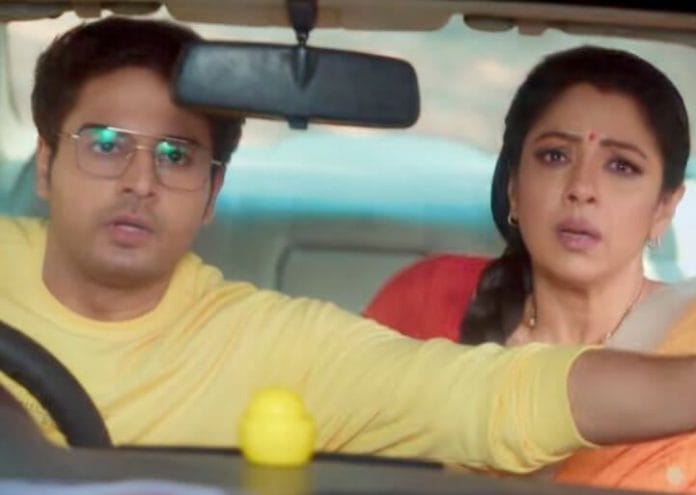 Anupama 9th January 2023 Written Update on TellyExpress.com
In today's episode, Hasmuk asks Leela whom she is calling. Leela says she is calling Anupama. Hasmuk asks Leela if she will never change. Leela says to Hasmuk that she realises her mistake and think Anupama has done much for them and she should focus on her house. Vanraj asks Leela whom she is talking to apologize. Leela says Anupama. Vanraj asks Leela not to start Anupama's topic. Hasmuk asks Leela to call Anupama if she is genuinely sorry. Leela says she will call later. She asks Vanraj to call Paritosh for dinner. Vanraj says Paritosh might be dreaming somewhere. Leela says there is no harm in dreaming. Samar and Dimple come. Leela asks Dimple why she didn't go her home. Samar says classes extended thus Dimple came with him.
Leela says Dimple can go back to her house. Dimple says to Leela that she can directly question her. She add Leela don't like her. Leela claim Dimple is trying to enter the house. Samar defends Dimple. Dimple says to Leela that Samar is just her friend. Leela says Vanraj and Kavya was just friend too. Vanraj asks Samar to drop Dimple. Leela gets offended.
Anupama serves dinner to Dheeraj and Anuj. Dheerja gets surprised hearing Anuj and Anupama's love story. He demands Anupama to share her part of the story. Leela makes a call. Anupama and Anuj looks at each other. Dheeraj asks Anupama to take a call. Anupama decide to call back Shahs later. Leela says to Hasmuk that Anupama is throwing attitude when she wants to apologize. She further asks Vanraj why he let Samar go with Hasmuk. Leela, Vanraj discuss about Samar and Dimple. Vanraj says they should get ready if Samar marries Dimple in the future as none listen to anyone at Shah house. Leela adds she will not accept the marriage until she is alive.
Samar and Dimple eat ice-cream. Dimple feels bad misbehaving with Leela. Samar says to Dimple that he cares for her. Dimple stands stunned. Anupama, Anuj and Dheeraj spend time together. Dheeraj asks Anuj if he had any other best friend or not. Anupama gets shocked when Anuj mentioned former used to be his best friend. She further tells to Dheeraj how Anuj changed her life. Anupama fel bad for taking Anuj for granted. Anuj asks Anupama not to be sad. Anupama says everyone benefited Anuj's good nature. She regrets hurting Anuj. Anupama breaks down in front of Dheeraj and Anuj. [Episode Ends]
Precap: Anupama wishes Anuj don't stop loving her. Dheeraj asks Anuj to not lose his love.
Also See: