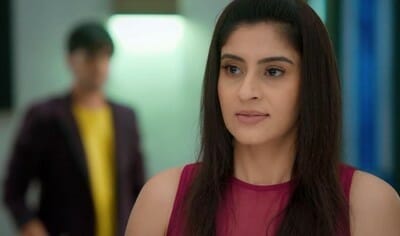 Anupama 9th November 2022 Written Update on TellyExpress.com
In today's episode, Anuj plan for Pakhi's wedding along with Anupama. He tells Anu is getting adamant to become Dj in the function. Anupama says Anu is trying to copy Anuj. She adds Ankush and GK are happy with the marriage. Anuj says only Barkha and Vanraj are unhappy with the wedding. Anupama says to Anuj that he keeps copying her. Anuj flirts with Anupama.
Kinjal says to Paritosh that she has to change Pari's nappy. Paritosh thanks Kinjal for forgetting and coming for Pakhi's wedding. Kinjal replies she came for the wedding and will go back once it is done. Paritosh hope Kinjal stays backs after the wedding. Leela over hears Kinjal and Partiosh's talk. She decides to stop Kinjal from leaving again.
Anuj kisses Anupama. Anupama and Anuj spend quality time together. Adhik interrupts and share about glam and glitz theme of sangeet. Anuj agrees. Adhik gets happy. Anuj asks Anupama to be happy as Pakhi will be in front of her eyes post wedding too. Anupama says but one day Pakhi and Adhik have to leave the house. Anuj asks the reason. Anupama says because she doesn't want Adhik and Pakhi taking him for grant. Anuj corrects Anupama and says it is taking for granted. Anupama says the same.
Shahs try to decide upon Pakhi's invitation. Kavya and Leela discuss. Anupama joins them. She gets teary seeing the card. Hasmuk says a mother is teary throughout her daughter wedding. Leela says even Vanraj is full but he isn't reacting. Kavya asks Anupama to help them in choosing the invitation. Leela asks Anupama to talk with Vanraj and take his advice too on the invitation. Kavya, Leela and Anupama secretly keep the cards in Vanraj's room.
Vanraj picks up the card. Leela, Vanraj and Kavya get happy. Anuj, Ankush, Adhik and Anu practice for sangeet. Samar and Paritosh joins them. Anuj advice Barkha not to miss Adhik's wedding else she will regret later. Leela, Anupama and Kavya gets shocked seeing Vanraj cutting his name and adding Anuj's name in the card.
Elsewhere, Barkha decide to see Pakhi and Anupama's fight from far. Pakhi plans for her pre-photoshoot. Anupama asks Pakhi to stay at Shah house until wedding. Pakhi gets offended. Anupama lecture Pakhi. Paritosh and Samar asks Pakhi to come along as they will make new memories with her. Pakhi says if Leela is missing her she will go and meet her. She refuses to stay back at Shah house. Anupama says to Pakhi that she isn't making a request rather ordering her to go to Shah house back. [Episode Ends]
Precap: Barkha instigate Pakhi. Pakhi asks Anupama if she is jealous of her. She accuses her from stopping Anuj to spend money on her wedding. Anupama stands mum.
Also See: