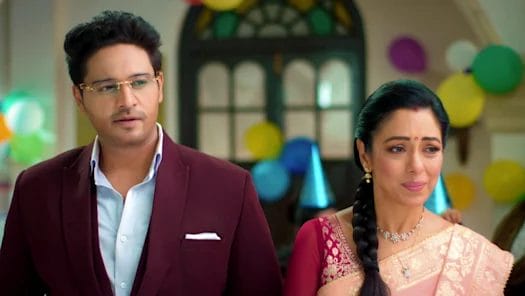 Anupamaa Spoilers, Upcoming Story, Latest Gossip , Future Story, Latest News and Upcoming Twist on TellyExpress.com
Rajan Shahi Anupama is high on drama. Last viewers see Anupama throwing Pakhi out from the house to teach her a lesson.
In today's episode, Anupama breaks down thinking Pakhi degraded her. Anuj says to Pakhi that even if God come and says Anupama married her for money, he will not agree. Hasmuk asks Pakhi how she dares talk bad about Anupama. Leela says Pakhi is greedy thus she sees her world like that.
Samar says to Pakhi that her cuteness is turning disgusting. Paritosh, Kinjal, Devika, Kavya lecture Pakhi too. Pakhi asks all how much they are going to taunt her. Vanraj asks Pakhi to bear if she dares to speak. He goes to against Pakhi. Anupama makes a decision. She asks Pakhi to leave the house as a punishment. Anupama says now she will show. Adhik says to Anupama that punishment is needed for them to grow. Anupama asks Pakhi to leave the house. Leela asks Pakhi not to come to Shah house. Anupama asks Pakhi not to go to Bhavesh and Kanta's house too. Dolly refuses to help Pakhi too. Pakhi asks Anupama not to throw her out. She goes mad and says she will not go. She adds she is ready to apologize and plead Anupama. Vanraj asks Anupama not to throw Pakhi out from the house. Anupama asks Vanraj to take Pakhi along if he wants.
In the upcoming episode, Anupama will disclose to Ankush and Anuj that Barkha provoked Pakhi thus she should leave too. Anuj asks Ankush to leave the house along with Barkha. He further decides to go to other city along with Anupama, Anu. Barkha and Pakhi will join hands against Anupama. How Anupama will react will be interesting to watch.
Follow us for more TV serial updates