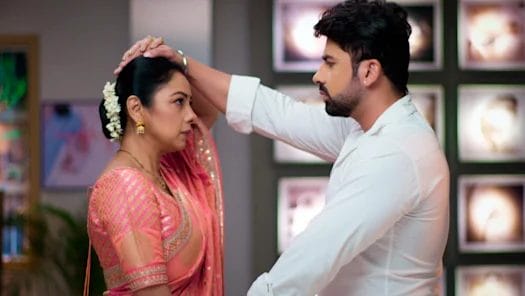 Anupama Upcoming Story, Spoilers, Latest Gossip , Future Story, Latest News and Upcoming Twist on TellyExpress.com
Paritosh will threaten to end his life. New trouble for Kinjal
In today's episode, Kinjal apologize to Anupama. Anupama apologize to Kinjal too. She asks Kinjal what she is writing. Kinjal says she is writing her thoughts on paper as she is clueless what to do next. Anupama says to Kinjal that their situation is similar but when Vanraj's truth was out she crossed half her age. She adds Kinjal is smart and young and can deal with the situation in a better way. Anupama encourages Kinjal.
Leela comes to Anupama's place and calls her out. Barkha asks Leela not to shout. Leela complaint to Anupama and says Barkha is not allowing her to see Arya. Kinjal comes with Arya. Leela sees Arya and gets emotional. She urges Kinjal to come back home. Anupama asks Leela not to force Kinjal and let her decide on her own. Kavya tells to Vanraj that Leela went to Kapadia house. Vanraj worries. Kavya console Vanraj.
Leela tries to manipulate Kinjal to come back home as she won't be able to raise Arya alone. Anupama asks Leela not to instigate Kinjal. Anupama asks Leela not to scare Kinjal. Leela says Anupama will break Kinjal's house. Anuj asks Samar to take back Leela with all due respect.
In the upcoming episode, Shahs will worry about Paritosh. Paritosh will visit Kinjal drunken. He will threaten to end his life. Anupama will asks Paritosh to slit his wrist. Paritosh will get angry. Will Paritosh's emotional blackmail will work upon Kinjal? Time will only tell.
Follow us for TV serial news and updates