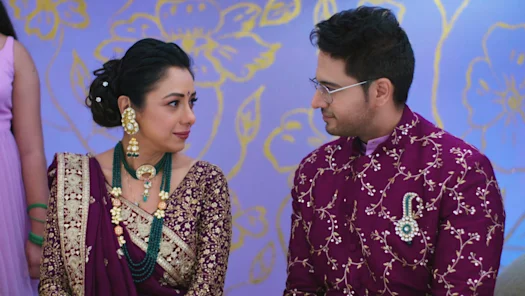 Anupama Upcoming Story, Spoilers, Latest Gossip , Future Story, Latest News and Upcoming Twist on TellyExpress.com
Drama to galore in Anupama. In today's episode,
Leela says to Kinjal that she will celebrate her baby shower once Anupama will be back. Kinjal and Leela miss Anupama. Both wish for Anupama's good life. Leela says Anupama has always taken responsibility of the house but Kavya is useless. She doubts something bad is going to happen with them. Kinjal sit shocked.
Anupama sees the decorated room. Anuj asks Anupama to stop blushing. He asks Anupama what she is thinking. Anupama holds the chips packet and eats it. Anuj asks Anupama to show her swag. Anupama throws drama. She asks Anuj to entertain her. Anupama asks Anuj to dance and entertain her. Anuj asks Anupama not to spoil honeymoon mood. Anupama gets irked.
Later, Shah's promote Banni Chow Home Delivery with Banni. Anuj performs a dance for Anupama. Both shakes leg together. Anupama and Anuj laughs later. Anuj gift night dress to Anupama and asks her to wear. Anupama gets shocked. Anuj says to Anupama that he kept her words and now it is time for her to payback. He asks Anupama to get ready until he comes back from taking the shower.
Anupama calls Devika. Devika tells to Anupama that if she got the gift. Anupama asks Devika if she already knew about the dress. Devika informs that she only had chosen it. Anupama says that she has never worn such dress. Devika asks Anupama to wear it for Anuj's sake. Anupama feels awkward. Devika convinces Anupama to wear the night dress. Anuj gets lost in Anupama's beauty.
In the upcoming episode, Anuj and Anupama will visit orphanage. Anuj will share his painful past to Anupama. A little girl at orphanage will wait for miracle to happen. Who is the little girl? Keep watching the show to know more.