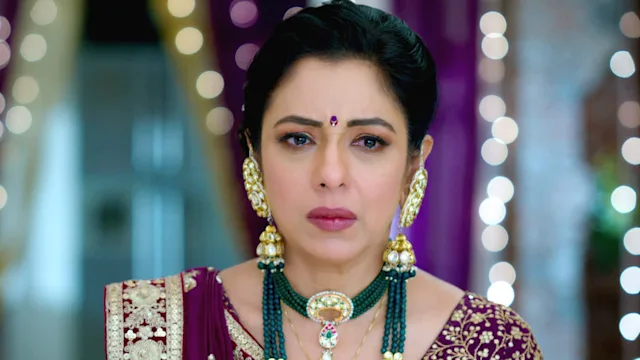 Anupamaa Spoilers, Upcoming Story, Latest Gossip , Future Story, Latest News and Upcoming Twist on TellyExpress.com
Show Anupama is high on drama. Hasmuk's health condition comes in front of Shah's. Anupama insists Hasmuk to get operated. Hasmuk says until her wedding will take place, he will not go to the hospital. Anupama will announce that if Hasmuk will not go to the hospital than she will not marry Anuj too. Hasmuk will sit shocked. Will Anupama be able to change Hasmuk;s decision? Keep watching the show to know more.
In today's episode, Anuj, Anupama celebrates their sangeet. Hasmuk collapses and shocks Shah's. Shah's worry for Hasmuk. GK stands stunned. Anuj confront GK. GK recalls Hasmuk's promise. Kavya finds Hasmuk's tests report. Vanraj takes the report from Kavya's hand. Anuj recall GK and Hasmuk's meeting. Vanraj gets irked thinking he don't understand medical terms and wait for the doctor. Anuj tells to Shah's that GK knows the truth. GK reveals to Shah's that Hasmuk is suffering from a serious heart disease. Vanraj gets angry on GK for hiding the truth. Anuj defends GK and says Hasmuk's promise stopped latter from telling the truth.
Vanraj accuse Anuj and Anupama for Hasmuk's condition. Anupama says that she was clueless about Hasmuk's health. Vanraj accuse Anupama. He lose his temper and asks others to enjoy. Leela warns Anupama if anything happen to Hasmuk, she will not spare. Vanraj announce in Anupama and Anuj' wedding Hasmuk will not take a part. He says MaAn's wedding will not take place at Shah house anymore. Leela accuse Anupama for Hasmuk's health condition. Doctor suggest for Hasmuk's operation. Anupama, Anuj decide to postpone their wedding and get Hasmuk operated first. Anupama vows to save Hasmuk's life.
Will Hasmuk survive, wait for our next update on the show Anupama.