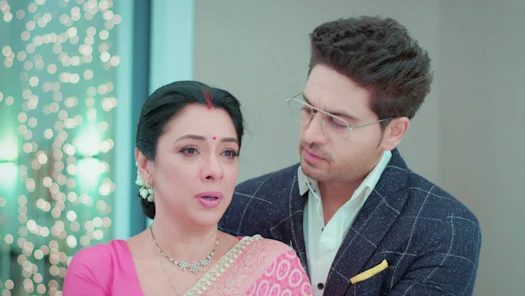 Anupama Upcoming Story, Spoilers, Latest Gossip , Future Story, Latest News and Upcoming Twist on TellyExpress.com
Drama to galore in Anupama with 'Anupama' giving befitting reply to Barkha and putting her on a right place.
In today's episode, Anuj says to Anupama that he doesn't like if Leela or Vanraj raises their voice on her. He asks her to stay away from Shah family for some days. Anuj says he can control his anger to a point else what he will do next he himself is clueless. Anupama says Kinjal is pregnant and she can't stay away from the family. She adds she will handle Vanraj. Anuj questions if from past 26 years, she was able to handle Vanraj? Barkha and Adhik smirks seeing Anuj and Anupama fight.
Pakhi says to Vanraj that he is accusing her as if she knew that Kinjal will meet with an accident at Anupama's place. Vanraj corrects Pakhi for her misbehaviour. Leela asks the matter and gets shocked learning about the mishap happened with Kinjal. Pakhi says to Vanraj that visiting Anupama's place is not wrong. Vanraj asks Pakhi not argue with him. Pakhi leaves the place. Vanraj says to Hasmuk that his children are ashamed to be with him now. Kavya, Samar, Hasmuk and others stands emotional.
Anupama and Anuj argue with each other. Anuj says that whatever happened was an accident by Vanraj accused her for no reason. Anupama says to Anuj that her children are the reason for her to bear Vanraj. Anuj asks Anupama to stop defending Vanraj. Anupama and Anuj argue with each other.
Later, Anuj and Anupama patch up. In the upcoming episode, Barkha will try to instigate Anupama against Anuj. Anupama will give a befitting reply to Anupama and will say she don't let other people to add oil to the fuel. Will Barkha turn against MaAn? Keep watching the show to know more
Stay tuned for more TV serial, news and updates