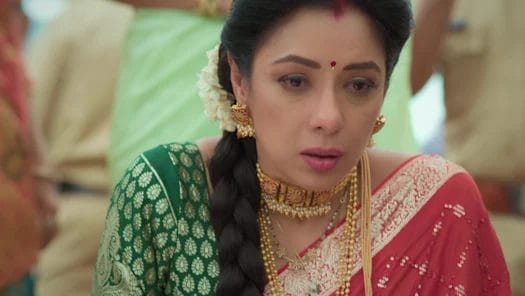 Barkha will get adamant to send Vanraj behind the bars. Will Shahs will be able to save Vanraj?

In today's episode, Barkha says Anuj met with an accident and none complaint to the police. Kavya says to Barkha that there is no need of investigation as she was a witness of the incident. Barkha says to Kavya that she is stopping the investigation because it is against Vanraj. Paritosh asks Barkha if she meant Vanraj pushed Anuj and later jumped off too. He asks to talk about logic. Barkha says she just want a police investigation. Leela counter Barkha. She asks Barkha if she is so concerned about Anju because of his property.
Barkha says she want to see Vanraj behind the bar. She add she isnt bothered who is tagging along with Vanraj to the jail. Barkha says Vanraj or his parents or kids whosoever wants to save Vanraj can go to the jail too. Anupama stops Barkha. She side Shahs. Barkha gets furious and raise a question on Anupama's character. She asks Anupama if she still have a soft corner for Vanraj. Barkha adds thus she is siding Anupama.
Anupama asks Barkha she should thank her stars for accusing her at the hospital else she would have shown her what happens when anyone does her character assassination.

Later, Anuj regains his consciousness. Anupama and others get elated while, Barkha gets upset.
In the upcoming episode, Vanraj will apologize to Anupama for what all happened. Anupama will vent out at Vanraj for hurting Anuj. Anupama will file a case against Vanraj? Will Shahs be able to save Vanraj? Time will only tell. Keep watching the show for more entertainment.

Stay tuned with us for TV serial news and updates