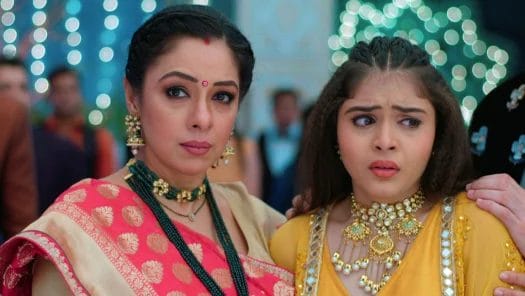 Anupamaa Spoilers, Upcoming Story, Latest Gossip , Future Story, Latest News and Upcoming Twist on TellyExpress.com
Rajan Shahi's Anupama will see Anupama teaching a lesson to Pakhi and Adhik so that they can rectify their mistake.
In today's episode, Vanraj asks Pakhi to go as her new journey is starting. He adds she isn't a good daughter but he expects her to be a good wife. Vanraj says that he used to think Adhik is not a perfect match for him but now he feel only latter is made for her. He asks Pakhi to go. Anupama asks Vanraj he isn't doing right. Leela says to Vanraj that they give away daughter and not throw them out. Vanraj says Pakhi has given him no choice. He asks Pakhi to leave the house. Kavya asks Vanraj not to take any sudden decision. Pakhi recall her past at Shah house
Adhik says to Anuj that Barkha too will throw them out from the house He pleads Anuj to help them. Anuj asks Pakhi and Adhik to calm. Pakhi cries loudly.
Kavya asks Vanraj if he is fine. Hasmuk talk with Vanraj and makes him understand that Pakhi is married now he has to accept the fact. Vanraj regret showering extra love to Pakhi. Hasmuk asks Vanraj to accept Pakhi's decision.
Kavya console Anupama. Hasmuk asks Vanraj to rethink on his decision. He asks Vanraj to give away Pakhi and do not break his ties with her. Kavya, Leela and Samar side Hasmuk. Vanraj refuse to change his decision.
In the upcoming episode, Anupama will become tough towards Pakhi to make her realize the blunder she did. Will Pakhi regret her decision to marry Adhik? Time will only tell. Keep watching the show for more entertainment.
Follow us for TV serial latest updates.