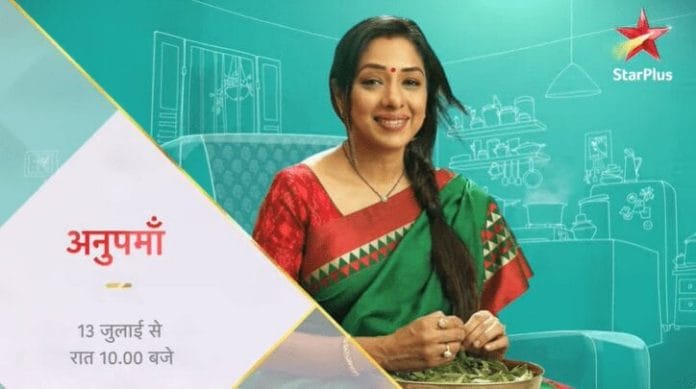 Anupamaa 11th August 2020 Written Update on TellyExpress.com
Episode begins with Devika says one guy used to trouble her a lot, after complaining about him too he didn't change then Anupamaa taught him a lesson in her own way. Leela's brother asks how she changed him. Devika says Anupamaa slapped him in front of every one. Everyone shocks listening her. Samar says he is so proud of Anupamaa. Devika asks isn't Vanraj too feeling proud of her now. He says she never told him about all these. Devika says one should not take their mother for granted. Samar agrees with her. Anupamaa says enough of talks and asks them to eat. Devika calls her to join them. Pakhi says Anupamaa eats last always.
Kavya calls Vanraj, he enquires about Anirudh. She says he is watching tv. He asks did Anirudh troubled her. She says he can't do anything to her so he need not to worry about her. She says he knows that how much she loves Vanraj so he just do things to irritate him. He asks her to call him if Anirudh troubles her. She asks him to sing for her saying it's been so long. Kavya sleeps while listening his song, Anirudh takes her mobile and asks Vanraj to sing for him too.
Pakhi says she doesn't know that Anupamaa was so cool in her school days. Devika asks Anupamaa to join them instead of doing work which she does always. She asks her to dance. Pakhi says she dances with Samar but they never saw that. Devika gets surprised that they never saw Anupamaa's dance. Anupamaa tries to go from there, Devika stops her saying she will reveal her secret if she doesn't dance. Samar asks about which secret she is talking. Anupamaa says there is no secret and agrees to dance. Then everyone joins Anupamaa in dancing. Anupamaa's kids starts to whistle, she asks them to stop making sound otherwise Vanraj may hear.
Samar asks Devika to tell the secret now. Devika says it's another secret and says seeing Anupamaa's dance their class most handsome boy fell for her. She says that boy Anuj was so crazy for her after that. Vanraj overhears their talks. Devika says Anuj came to propose Anupamaa on Valentine's day with his mother's bangle but she didn't came to college that day. She says next day alliance proposal came from Vanraj. Vanraj recalls Devika's talks about Anuj. Devika tells Anupamaa that after marriage she became super woman and asks how she is managing everything. Vanraj says she heard Devika's talks about Anuj and asks Anupamaa that if he didn't came with marriage proposal then she would have said yes to Anuj's proposal or what. Anupamaa says seems like he didn't heard their talks fully and says after seeing him she even forgot about her dreams. Vanraj smiles hearing her.
Episode ends.