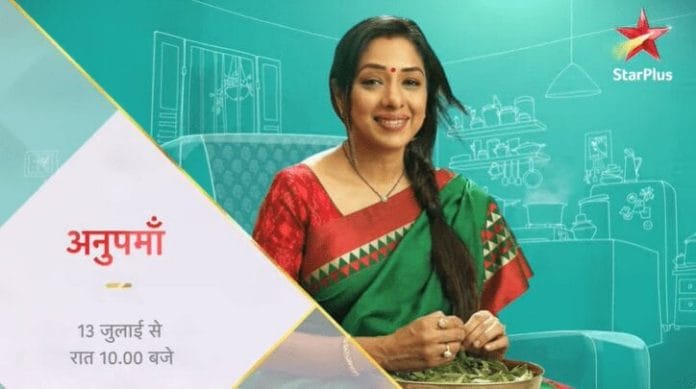 Anupamaa 15th August 2020 Written Update on TellyExpress.com
Episode begins with Samar says staying with him Anupamaa become creative like him. Leela says she taught her everything. Paritosh says on fasting day only he feels so hungry. Leela's brother says they can eat fruits at least but Leela and Anupamaa can't eat anything full day. He teases Leela. Leela asks Anupamaa about Vanraj. Anupamaa goes to see him and seeing him dressed asks is he going to office. He says something urgent came so he has to go and asks did she called Kavya. She says in preparations she totally forgot about it but he need not to worry she will convince Kavya to attend the puja. Later, Anupamaa calls Kavya and invites her. Kavya says Leela invited her and Nandini also wanted to attend but she can't attend because of some work.
Anupamaa says Kavya's promotion party spoiled because of her if she attends the puja then she will be happy. Kavya agrees to attend the puja, Vanraj overhears that. She tells him Anupamaa insisted so much that she is not able to deny her. She says Vanraj behaving different today and didn't even asked about Anirudh. He says if he asks anything about him then the topic just ends up with fights and he is happy that she is attending the puja.
Anupamaa says Samar looks like Krishna. Samar says Vanraj is their Krishna and she is his Radha. Shah family tries to convince Samar to become Krishna saying he is youngest one in their family. Samar denies to become Krishna saying he is not any small kid. Anupamaa asks him to not be stubborn. Samar suggests Paritosh name to become Krishna. Samar agrees to them. He orders everyone to do something for him and acts like Krishna. Kinjal comes there, Leela taunts her seeing her dressing. Anupamaa comes to help Kinjal and says she asked her come like this so she can make her ready for puja in traditional saree. Leela says Anupamaa should have informed her. Kinjal thanks Anupamaa. Leela asks Kinjal about her family. Kinjal says if her parents gets free time they will come. Anupamaa takes Kinjal with her.
Anupamaa asks God to forgive her for lying to Leela and says if she doesn't support Kinjal then who will do. She shows the saree to Kinjal. Kinjal praises the saree and apologize to her saying she had to lie because of her. Anupamaa says it's their mistake so Kinjal need not to apologize and says we gets training while going to job then why we expects daughter in law should know everything. Kinjal says Anupamaa is so sweet.
Anupamaa says she wants to be friend to her daughter in law not mother or mother in law. She says she didn't had anyone to talk when she came to this house after marriage but she won't let that happen with Kinjal. She makes Kinjal ready and says she is looking so beautiful.
Episode ends.
Precap – Leela says Vanraj and Anupamaa is her Krishna and Radha. Kavya gets jealous seeing Anupamaa and Vanraj doing puja together.