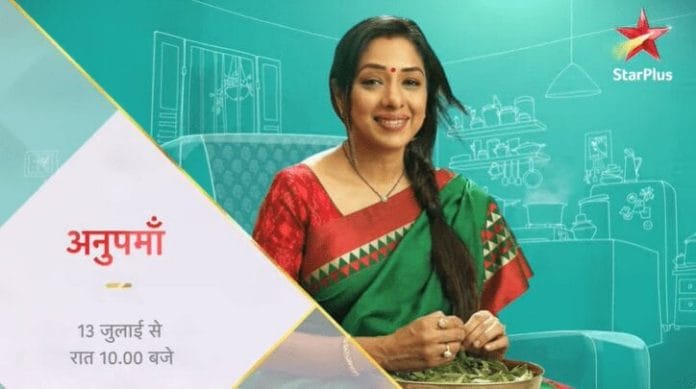 Anupamaa 18th August 2020 Written Update on TellyExpress.com
The episode begins with Vanraj dances with Anupamaa which irks Kavya. Then Paritosh, Samar, Kinjal and Nandini joins them. Kinjal's mother Rakhi comes there and shouts at them. Kinjal shocks seeing her mother there. Rakhi looks at Kinjal and asks what is she wearing. She says she called her more than 50times but she didn't attend her call.
Kinjal asks her to calm down saying they can go outside and talk. She pleads her to not create drama. Rakhi says she was worried about her but Kinjal saying she is creating drama. Nandini murmurs what's Rakhi's problem. Kavya says that's their family matter and asks her to stay out of it. Pakhi sends Meenu inside.
Anupamaa says she doesn't know what was Kinjal's mistake but a mother should not shout at their child in public like this. Rakhi mockingly asks so she doesn't even know what was Kinjal's mistake. Anupamaa says Kinjal came for puja and that's not a big mistake. Rakhi says Kinjal came here without informing her in English. Anupamaa gets confused hearing her.
Rakhi mockingly says she forgot Anupamaa can't understand English and says Kinjal came to attend puja without informing her in Hindi. Anupamaa looks at Kinjal and Paritosh. She asks Kinjal to apologize to Rakhi. Kinjal apologize to her mother and says she came without informing her because she would not have allowed her if she told her then. Leela tells his brother that mistake is Kinjal's and she is creating drama in their house.
Anupamaa asks Rakhi to join them and says it's Kinjal's first janmashtami puja in her mother in law house. Rakhi shouts at her and says who told her that Kinjal will become her daughter in law. She says they came to see Paritosh's family for sure but didn't promised for the relationship. Kinjal asks her to stop saying mistake is hers not them. Rakhi taunts Kinjal's look and says they are trying to change Kinjal and her personality.
Anupamaa says today janmashtami puja that's why she helped Kinjal to get ready like radha. Rakhi says now Kinjal going against her because of Anupamaa. She says Anupamaa brainwashed Kinjal to go against her family. She says they wants Kinjal to marry Paritosh because Kinjal is from rich family. Leela asks her to stop. She says Rakhi is rich or not that's not matter for them and says because of Vanraj's hardworking they are living such a good life. She says beggars asks dowry not her family. She says Paritosh and Kinjal loves each other for their happiness they told yes and Rakhi came to talk about their relationship.
She says Kinjal lied if Rakhi wants to taunt then she can taunt her but she can't taunt her daughter in law. Anupamaa says they can talk calmly. Leela says she talk calmly but what happened. Rakhi says this house doesn't want daughter in law they just wants servant just like Anupamaa.
Episode ends.
Precap – Vanraj shouts at Rakhi and takes stand for Anupamaa. Nandini tells Kavya that Vanraj is so protective for Anupamaa and that's true love.