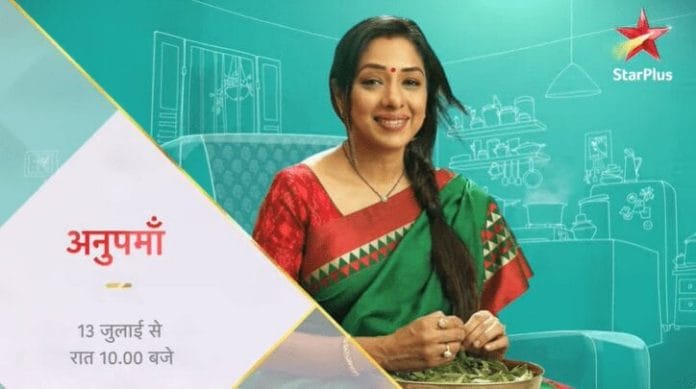 Anupamaa 8th August 2020 Written Update on TellyExpress.com
Episode begins with Leela's brother asks Leela that why she asked 15thousand from Bhavesh and Anupamaa. Leela its their punishment. Vanraj agrees with Leela's brother and says Bhavesh is Anupamaa's family and Anupamaa is daughter in law of this house. He says Anupamaa's mistake is there but Leela should not have asked 15thousand to Bhavesh. Anupamaa overhears them. Leela says now Balraj too giving lectures to her like her brother. He says he is not giving any lecture just saying that asking 15thousand from Bhavesh is too much when they can't afford that. Leela says Samar is still kid and mistakes happens from them. She warns him to not slap Samar again. Anupamaa tries to cheer Samar's mood and starts to sing and dances around him. While singing, she forgets the lyrics which makes Samar smile. She apologize to him. He apologize to her saying she is tolerating everything and he can't do anything for her. He asks about Vanraj's mood. She says everything is fine and tells how Leela asked Bhavesh to compensate but Vanraj took stand for him and says Vanraj is so good. Anupamaa thinks she makes Vanraj angry always but still he loves her and took stand for Bhavesh. She says he never says like Paritosh that he loves her still she gets to know that how much he loves her. She promises that she will keep the family together and will never make him angry.
Anupamaa tells her mother that Vanraj handled everything so Bhavesh need not to arrange the money. She says even though he gets angry on her but loves her lot too. Anupamaa's mother blesses them to stay happy. Anupamaa thinks while going to office Vanraj didn't scolded her so he is not angry on her and she will handle Leela too by preparing her favorite food. She gets excited seeing Kinjal there and praises her dress. Leela sees them together and asks Kinjal to meet her too. Leela expects Kinjal to take blessing from her. Anupamaa understands that and tells Kinjal to take blessing from Leela. Because of Kinjal's dress, she struggles to bend seeing that Leela lifts her foot and Kinjal takes her blessing. Kinjal asks about Paritosh. Anupamaa says he is studying in his room and asks to meet him there. Leela says they should call Paritosh here that time Samar and Pakhi comes there and meets Kinjal. Samar teases Kinjal and Pakhi praises Kinjal's style. Samar says he will take Kinjal to Paritosh's room. Pakhi joins them. Anupamaa asks Kinjal what she would like to eat. Kinjal says anything if it's Gujarati food and they leaves from there.
Leela asks why Anupamaa send Kinjal to Paritosh's room before marriage. Anupamaa says time is changing. Leela says time can change but mother in law is still mother in law only and complaints about Kinjal's dress. Anupamaa says Pakhi too wears dress like this. Leela asks her to not teach saying there is a difference between daughter and daughter in law. Anupamaa thinks she wants to change this mindset only, she wants to become mother not mother in law. Samar tells Paritosh that he doesn't likes Kinjal and asks him to change her. Paritosh gets angry and says she is perfect girl for him. That time Kinjal and Pakhi makes an entry. Paritosh gets surprised seeing Kinjal and gets to know that they pranked him. He signals Samar and Pakhi to leave from there but they teases him. They teases Kinjal too before Paritosh says anything they runs away from there.
Kinjal asks he is also thinking like Samar that she is dominating. Paritosh denies that and asks did she talk with her parents about him. Kinjal says her parents didn't decided anything yet and she too didn't forced them. She says she will handle them so he need not to worry. Samar tells Pakhi that his girlfriend won't be like Kinjal. Pakhi says he won't get girlfriend. Samar says it's just that he never gives attention to girls otherwise he would have girlfriend. She asks him to give attention otherwise after Paritosh her wedding will happen.
Paritosh gets angry on Anupamaa for making Gujarati food for Kinjal. Kinjal says she only asked her to make indian food. She eat that, praises a lot and asks her pack for her father too. Paritosh says in Kinjal's house chefs working and Anupamaa can't even imagine how much food they makes daily. Kinjal asks her to make coffee for her saying no chef can match her taste. Anupamaa leaves from there. Kinjal scolds Paritosh for his behavior towards Anupamaa. She says in anger he should not forget to give respect to elders and asks him to change otherwise her opinion about will change. Kavya asks why Vanraj came to office before time. Anirudh makes an entry which shocks both Kavya and Vanraj. Anirudh says he knew that he can see Kavya in Vanraj's office only.
Episode ends.
Precap – Anupamaa's friend comes to her house. Vanraj gets jealous of Anirudh.