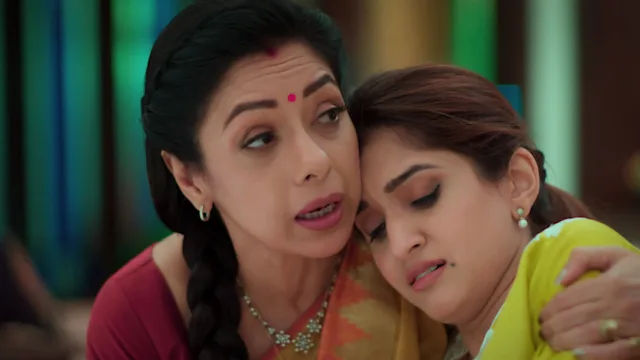 Anupamaa Spoilers, Upcoming Story, Latest Gossip , Future Story, Latest News and Upcoming Twist on TellyExpress.com
Barkha will confront Anupama and Anuj about hiding Anu's truth from them in Anupama.
In today's episode, Anuj and Anupama pray to God. They get excited to welcome Anu. Anuj thanks Anupama for giving him happiness of becoming a father. He shower love to Anupama. Leela asks Vanraj if he had talked doctor about Hasmuk. Vanraj says doctor has advised to do the surgery to the soonest. Hasmuk says his operation can delay until Kinjal delivers. He manages to convince Vanraj and Leela. Vanraj feels guilty.
Anu gets happy seeing Anuj and calls him father. Anuj showers love to Anu. Anu asks about Anupama. Anuj says she is preparing for her welcome. Anupama bakes cake for Anu. Barkha, Adhik and Ankush stands shocked. They try to decode what Anuj and Anupama is upto. Ankush asks Barkha and Adhik to relax as they will learn about the surprise. Barkha worries whom Anuj is bringing home.
Anupama excitedly wait for Anuj. Anuj bring Anu home. Barkha and Ankush worry who is addressing Anupama a mother. Anupama gives a great welcome to Anu. She hugs Anu. Anuj and Anu gets a welcome from Anupama. Anu stand elated. Anupama and Anuj makes Anu pray. Barkha asks about Anu. Anuj reveal to Kapadia's about Anu. Kapadia's gets shocked learning that Anuj and Anupama are foster parents of Anu.
In the upcoming episode, Barkha will confront Anupama and Anuj about hiding the Anu's adoption truth from them. Anuj says people hide more big things too. Shahs will learn about Anu and will get stunned. How Anuj and Anupama will do Anu's upbringing, will be interesting to watch.
Stay tuned with us for more TV serial news and updates