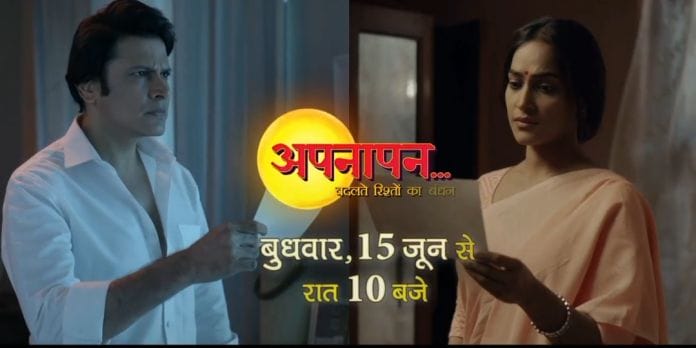 Appnapan 12th September 2022 Written Update on TellyExpress.com
Episode begins with Nick getting upset on being asked about saree by Dadi. Pallavi thinks why is Nick behaving like this. Next day, Dadi panicks thinking the decorations are still pending. All the kids preparing for sagai function. Harsh looks at them and smirks but later he also helps Mana in decorations. Lolita looks at the kids and adores how the kids are so excited. Lolita goes to the room and finds Pallavi in deep thoughts. Lolita says it's your engagement only. Pallavi says how many more lies will we say for hiding one truth. Pallavi asks Lolita if she got the papers. Lolita says yes. Lolita gives the papers to Pallavi. Pallavi says this paper makes it clear that I am doing this marriage for Dadi but not for Nick's property, I don't want people to feel I am a gold digger. Here, Nick shares with Shanky how he heard Pallavi and Rastogi talk about taking my kids from me as part of the marriage deal. Shanky says what? I can't believe, there must be some confusion. Nick says I also thought so but I heard it myself. Gagan, Badal and Harsh come with sherwani for Nick and asks him to change.
Shanky praises Harsh getting involved too. Harsh says I can't deny Dadi. Shanky also ask Nick to get ready. Here, Mana does the make up of Pallavi. Pallavi says please don't put much make up. Mana says I know how to make it perfect. Here, Sonali is getting ready while Nandita is seeing her. One parlour lady breaks Sonali's nails, this angers Sonali and she sends them away. Nandita asks Sonali so what is our plan? Sonali says I have already done it. Sonali shares how when she was in saree she heard Dadi and Nani talk about engagement rings and saw them keep the rings, then she took the rings. Nandita praises Sonali seeing the rings with her. Nandita says I already knew that with you we will always win.
Here, Mana thinks to get ready but keeps on thinking and imagining Ishan near her. Dadi and Nani overlook the preparations and taunt each other in a fun way. Dadi asks Barkha to call Mana. So she goes. Mana is ready and she tells herself to stop imagining Ishan as today Ishan won't even come as it's a family function. Just then she falls and Ishan catches her. They have an eyelock. Mana says why are you always here to distracting me. Ishan says it's good to know my Mana is also thinking about me the same way. He smiles while Mana blushes. They stand up. Mana sees Barkha come so she diverts the topic and says Barkha please take care of your ex fiance as Dadi has given me a lot of work. Barkha thanks Ishan for accepting her invite. Mana sees them from far with watery eyes. Ishan looks at Mana and feels sad.
Engagement ceremony begins, Nick is made to sit and then Pallavi comes so Nick gets mesmerized just then he remembers Pallavi and Rastogi's conversation and he feels angry. Pallavi takes blessings from Dadi and Nani. Mana makes Pallavi sit beside Nick. The kids smile seeing them. Pallavi says I want to talk to you. Nick says tell me infront of all. Pallavi says I want to talk to you only that is why I am whispering. Pandit ji say that mauhrat will start in 20 mins.
Dadi asks everyone to start eating something. They go. Nick is about to leave when Pallavi stops him. Nick says I know all about your acting, you want something from me as you are doing this for my mom. Pallavi says why are speaking like this? Come to room I will tell you. Nick shouts and says tell me whatever you want here only. Everyone gets shocked. Pallavi is surprised and says you have worn your lower wrong. Everyone sees it and smiles. Nick says you wanted to tell me this? Pallavi says yes. Dadi asks Nick to go and make it right. Nick says this is new fashion. They all laugh. Nick goes. Nandita thinks where is Sonali?
Episode ends.
Precap – Nick brings an injured Sonali home while Pallavi is furious. Sonali comes and wears a saree of Pallavi which upsets her more. Dadi asks Nick to bring Pallavi back as the mauhrat will end. Nick looks on.
Click to read