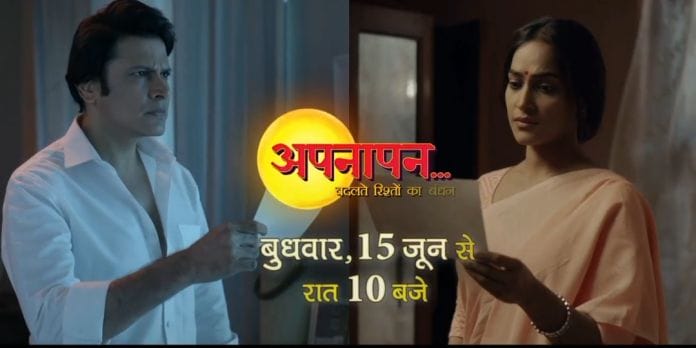 Appnapan 13th September 2022 Written Update on TellyExpress.com
Episode starts with Nick coming back after changing. Pandit ji starts the ritual. Roka ceremony starts. Dadi starts the ritual. Dadi comes to Nandita and says you should be happy for other family members and Nick is your brother atleast smile a bit. Pandit ji ask for rings. Dadi asks Mana to bring the ring. She goes. Ishan also follows her. Nandita smirks. In the room, Mana takes the ring from cupboard and is stopped by Ishan. Mana says it's my parents' sagai, let me go. Ishan says first tell me, why are you ignoring me? Why you want me to spend time with Barkha? Do you really not feel the same way for me? Mana drops the ring boxes by mistake and is shocked to see no rings inside. Mana and Ishan try to find the rings in the room.
Pandit ji asks to hurry up. Dadi says yes. Mana comes and informs how the rings are missing. Dadi says I kept it there. Nani says we kept it right there in the cupboard, everyone worries. Harsh sees Nandita smirk. Pallavi makes everyone calm and says I know without rings roka and sagai is not possible but who said it should be a gold ring? It can be of Tulsi too and it will be considered as a promise too. Pallavi makes a ring out of tulsi. Dadi says see Nick I told you Pallavi is perfect for you and this family. Nick thinks why couldn't I see the real face of you Pallavi? Suddenly some noise is heard outside so everyone rushes out.
A cat is found outside struck to a wall. Dadi asks Nick to see who it is? Nick goes to the car and sees Sonali. Nick and Pallavi get shocked. Badal also is shocked. Dadi says she seems familiar, who is she? Nani says it's Pallavi's cousin sister, Sonali. Nani asks Badal to call doctor. Nick takes Sonali in his arms to take her inside. Pallavi is in shock and remembers all the past days how Sonali created misunderstandings between her and Nick. Nandita smirks seeing Pallavi alone outside. Sonali sees Pallavi and thinks you were going to wear Tulsi ring, the place of Tulsi is always outside the house, I will soon show you your place.
Later, Nick makes Sonali sit. Nick says call the doctor fast when Sonali holds his hands and stops him. Pallavi sees this with anger. Sonali says no need of doctor. Nimmi bua comes and asks who is she? Sonali tries to take blessing from Nani. Nani asks her to rest. Nani says she is my sister's daughter. Dadi asks Shanky if Sonali lives here? Shanky says no, she has a sad family story. Here, the kids talk about how this family is full of drama and everytime there is a new entry. Harsh says this new entry seems to bring a lot of drama. Sonali comes crying and hugs Pallavi. She smiles and Nandita. Sonali says I missed you a lot didi. Pallavi is emotionless. Nani says that matter happened and you were lost somewhere, me and your sister will take care of you. Sonali again hugs Pallavi and says I missed our time together. Pallavi says I also remember how you ruined my life. Sonali says I am sorry.
Nimmi comments on how Sonali returned on this day only. Nick comes to Pallavi and says control your emotions, everyone is watching. Sonali says congratulations to you both for your sagai. Nani says you did good by coming back? Where did you go? Why did you leave? Sonali says because of Pallavi. Nick thinks truth shouldn't come out infront of Nani and Dadi. He worries.
Nick diverts the topic saying where is the doctor? Sonali says I will get better as now I have my family with me. Sonali says 18 years back you both helped me but I lost my everything. Mana whispers this Maasi is very dramatic. Barkha says shhh! She had an accident. Badal goes somewhere. Dadi asks Shanky about Sonali's husband. Shanky says he suffered from depression so he did suicide. Dadi gets shocked. Barkha smiles at Ishan who is smiling at Mana. Mana is not seeing at him. Barkha sees Ishan and thinks he is seeing Mana. Badal gives haldi milk to Sonali. Sonali says for my mistake didi got upset from me, jiju was just helping me. Nick says you have got a big injury. Sonali says I am just venting out with my Maasi. Dadi says you should rest and change. Sonali says I don't have appropriate clothes. Dadi says you can select from your sister's cupboard. Dadi asks Barkha to help Sonali. Barkha comes to her. Sonali pretends to be emotional seeing all the kids grown up. Pallavi says Barkha take Sonali inside fast. Sonali says I think you are still upset from me.
Episode ends.
Precap – Sonali wears a saree Nick got for Pallavi. Pallavi runs away from home. Nandita asks Sonali to use this chance and get close with Nick and give him support.
Click to read