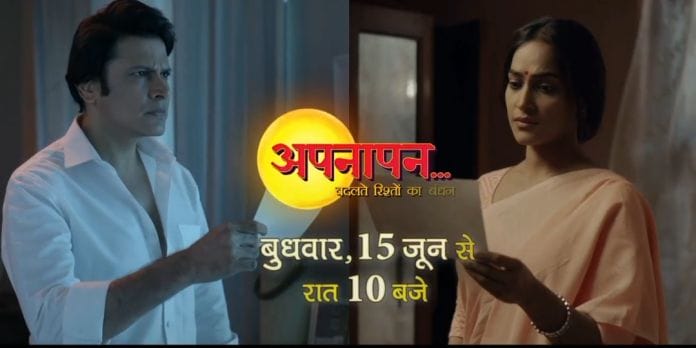 Appnapan 26th September 2022 Written Update on TellyExpress.com
Episode begins with Sonali deliberately calling Pallavi. Pallavi worries thinking about Gagan when she picks the call. Sonali deliberately asks Nick about where are we going? Nick says you know where we are going, we need to reach fast. Pallavi thinks what are Sonali and Nick doing together? Sonali cuts the call. Pallavi thinks Sonali should leave soon. Pallavi calls Nick. Sonali asks Nick not to tell Pallavi about them being together or else she will get worried and doubt. Nick picks the call and tells he is going for a meeting.
Pallavi asks if he is alone. Nick says there are people who will help me. Pallavi asks about his promise for lunch. Nick says I will be there. Pallavi says okay. Pallavi cuts the call and thinks I again expected unnecessarily from Nick, he has always lied to me, I should have understood from the start, today Nick will come as a son but not as a husband. Pallavi is unable to forget how Nick and Sonali are together.
Here, Nick feels bad for lying to Pallavi. Sonali says Pallavi is so controlling that Gagan went without telling anyone. Nick says Pallavi is not controlling, she is a very good mother even I felt weird when the company asked for 1 lakh. Sonali feels irritated seeing Nick support Pallavi. In the party, Pallavi serves everyone food but she is absent minded. Dadi notices this. Nimmi taunts Pallavi on where is Nick and if he is dodging the work of the house. Pallavi says he has gone for a meeting and he will come back by lunch. Nimmi says are you sure he is in a meeting.
Dadi says Nimmi you should start with dessert as you always say bitter things. Nani and Dadi joke on Nimmi so she gets silent. Barkha comes wearing blue and emphasising how it's Ishan's favourite colour. Nimmi says Mana looked better in blue than you. Nimmi praises Mana a lot and asks Barkha to learn from her. Barkha feels bad and goes inside. Barkha cries and goes inside. Pallavi sees this and goes to Barkha. Pallavi makes her sleep on her lap and make her remember about her childhood. Barkha feels emotional. She comforts her and asks her to share but Barkha is silent.
Here, Nick and Sonali come to Gagan and find him panicking as Harsh's car which he was driving is badly damaged. Gagan panicks and Nick comforts him. Nick says how Pallavi is not upset and she made all his favourite things. Gagan says I was not going against her, I was going to Delhi to get the papers and information she wanted. Nick calms Gagan. Nick says let me tell Pallavi. Gagan asks him not to right now. Doctor informs them that Gagan can't travel. Sonali suggests to take Gagan and stay in a nearby hotel. Sonali pays the hotel staff and asks them to say there is only one room left. Nick gets convinced to stay in one room with Gagan and Sonali as Pallavi shouldn't panick. They go to the room.
Here, Pallavi makes Barkha share her problem. Barkha says how she feels inferior to Mana as she is so beautiful. Pallavi says I can understand the pain as I went through this phase too. Pallavi shows Barkha an album where there are pictures of her and Sonali. Pallavi says she also went through the same. Barkha looks on.
Episode ends.
Precap – Sonali decides to increase the misunderstanding between Nick and Pallavi. Sonali asks help from Nandita. Pallavi feels restless and prays to god.
Click to read