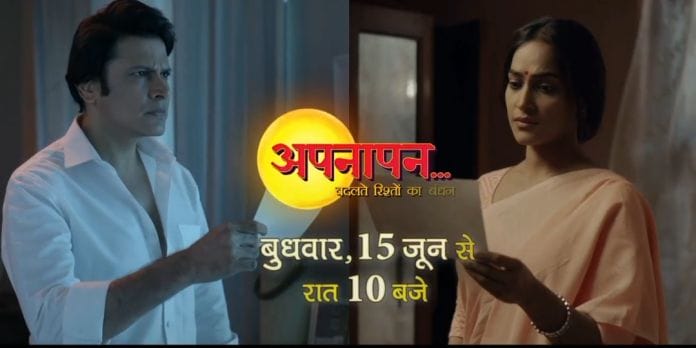 Appnapan 28th September 2022 Written Update on TellyExpress.com
Episode begins with Gagan sleep talking about Nick and Pallavi. Gagan questions if Nick and Pallavi really love each other? Nick is always silent in front of Pallavi. Nick and Sonali hear all this. Nick wakes up Gagan. Sonali says Pallavi is not Nick's wife, Nick gives him a look so Sonali says I mean not yet. Gagan says I am also stubborn to admit things like you but I know you love her. Here, Pallavi says how Nick is so different and with Sonali coming into picture, I can't pretend anymore that Nick is in our life. Lolita is listening to all this. Pallavi says now I am sure we don't have anything between us.
Pallavi says don't make me say it looking into your eyes. Lolita says look in the mirror and say it looking into your eyes. Lolita sees Nick's BP medicine so she panics. Pallavi says Nick is always so careless. Pallavi calls Nick. Gagan teases Nick. Nick takes the call and assures Pallavi that he will ask some staff to bring it. Pallavi says eat it after dinner. Nick says yes. Pallavi says you are just saying but I know when you say lies. Pallavi looks on. Nick says don't worry I will take it. Pallavi ends the call.
Kids come to Pallavi saying that they can't wake up early everyday as Dadi said tomorrow is also some puja. Here, Dadi is about to eat Paneer hiding from Pallavi when Pallavi and kids come there. Dadi says I was eating karela only. Pallavi tries to convince Dadi for postponing the puja when she says no it can't happen. Pallavi says simple, let's play antakshri all night then you don't have to worry to wake up early. The kids agree. Mana tries to convince Harsh as well.
Here, Nick thanks Sonali and goes. Sonali sees Nick is unaffected by her presence so she thinks to show Nick some different side of Sonali. She serves food and pretends to feel emotional. Nick thinks about how he promised Pallavi to talk to Sonali about leaving the house. Sonali cries and is confused why Nick is not reacting at all. Nick says I can help you monetarily if needed. Sonali says I need my husband and my sister'd love, can you give me? Nick says that is not in my hand. Nick thinks how he can't forget that Sonali's husband did suicide. Sonali thinks you can't just give me money and make me go Nick.
Here, everyone plays antakshri and Gagan starts singing. Dadi starts dancing and then gets tired so Pallavi gives her water. Then when it is Pallavi's turn she remembers all the lies told by Nick and sings Ajeeb Dastan. Lolita looks at her and understands her situation. Pallavi sings looking at her family picture with Nick. Here, Sonali deliberately hurts her feet so Nick picks her up. It turns out to be Sonali's dream. Nick saves Sonali from keeping her feet on glass and saves her. Sonali is irritated and thinks I will do something and won't let Nick go to Pallavi tomorrow. Nick calla for room service to clean the glass. Here, Mana sings Nick's favourite song so everyone dances and sings together. Pallavi looks at them and gets happy. Pallavi thinks I wish Nick was here to see it.
Episode ends.
Precap – the hotel staff tells Nick about Sonali going somewhere and Faridabad is not safe for women at this time. Nick goes to search for her and finds her earrings and then her scream. Dadi thinks where is Nick as it's past 6am.
Click to read