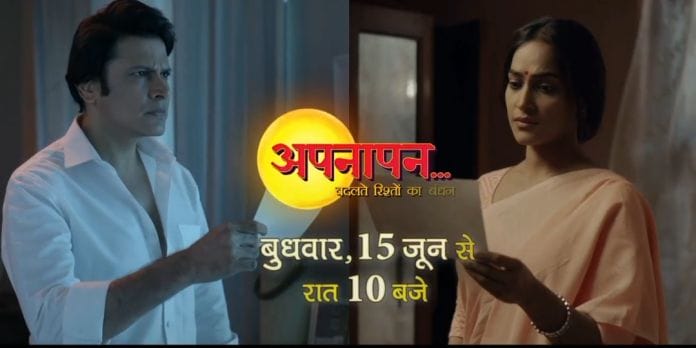 Appnapan 2nd August 2022 Written Update on TellyExpress.com
Episode begins with Nandita apologising to Rastogi and going after Nick. Later, Rastogi wipes his coat and calls someone to ask Pallavi to come to him and he will fight for her. Later, Pallavi and Ranveer come and wonder why did Rastogi called them? Ranveer says maybe he realised our side is stronger. Pallavi says finally someone understood. Rastogi asks for many snacks for Pallavi and Ranveer.
Pallavi asks Rastogi for his change of heart. Rastogi says I want to show your truth and I didn't find Nick's side very truthful, I know what kind of struggle you must have gone through to raise kids in Meerut alone, I am also a parent I can understand, Abira and Gagan are close I have seen how well you have raised them. Pallavi thanks him.
Rastogi says let's start working on the case. Rastogi calls a junior to take notes. Rastogi asks Pallavi if Nick was a womanizer? Pallavi says I haven't witnessed it much. Rastogi asks Ranveer if he hung out with Nick and had some drinks? Ranveer remembers the moment and says yes in restaurant. Rastogi says so during work? Ranveer says no. Pallavi says how is this relevant?
Rastogi says it is, you tell me did Badal joined restaurant by choice? Pallavi says I was against it but Nick knows how Badal wants to become a chef so Nick took advantage of that. Pallavi says Nick always gets what he wants, one day Badal faced an issue so I had to go. Pallavi describes the event when critics had come. Rastogi asks if anyone deliberately spoilt it? Pallavi remembers her conversation with Nandita. Pallavi says no it was not like that. Pallavi says but how is this connected? Rastogi says everything is. Rastogi says Badal is 17 years and he is in Nick's restaurant. Pallavi says Nick was my husband but he is still my kid's dad, so I don't want to defame him for this case.
Ranveer says also, Me and Pallavi are getting married to make the case strong. Rastogi says perfect, congratulations, we will definitely win it and prove a mom's story. Pallavi says but not defaming him. Ranveer says yes that's very important, you are doing great by helping a mom. Rastogi says we will show that Nick his real place. They leave. Rastogi listens to the recording and asks the junior to delete everything told in favour of Nick. Rastogi smirks.
Here, Badal and Mana are arranging things in restaurant. Nick comes and says my kids, let me order hot chocolate. Mana says we are not little kids that you are ordering this. Nick says then what do you want? Mana says cold coffee. Badal avoids but Nick says no matter what happens between me and Pallavi, you are my kid so be frank. Badal says caramel coffee. Nick asks Shambu to bring it. Nick explains the work and Mana and Badal agree on the plan. Nick says I am very much dependant on you both. Nick goes.
Here, Mana says I wanted to see this side of Nick. Badal says are mom and dad both are so amazing but whenever they come together they fight. Mana says what if we make them think of past days when they were in love, like remember when Sonali's name came they both became so angry. Badal says right, let's find about her. Mana says yes and bring back their love life. They agree on the plan. Here, Nandita comes to Nick with the articles against him. Nandita says this is all done by Pallavi.
Nick is shocked to see the allegations. Nick says Pallavi has said all this? How can she bring our kids into this? Nandita says you are doing child labour? She is destroying our brand. Nick says my license can be cancelled, what should I do? Nick gets upset and goes. Pallavi comes and Nick goes to her. Nick says what did you do? You went to this level? Ramveer comes there with Rastogi. Rastogi smiles. Nick gets angry seeing him. Nick goes to Rastogi. Rastogi says I have come to say I am fighting Pallavi and Ranveer's case. Rastogi taunts Nick and says I don't lose any case.
Nick says I know you only see the wining and not on ethics right? Do whatever you want I will do my part. They both leave. Ranveer stops Rastogi to talk to him but he goes. Here, Pallavi is sitting when Nick comes. Nick says your list must be ready. Pallavi talks about the work list but Nick understands she has a list against him. Nick says you will never change and always go to anyway to win. Pallavi says you are upset because Rastogi has become my lawyer. Nick says you have gone overboard. Pallavi asks what have I done? Nandita shows her the newspaper article. Pallavi gets shocked.
Episode ends.
Precap – Pallavi tells Lolita how she is responsible for defaming Nick's career. Media questions Nick on his work ethics.
Click to read