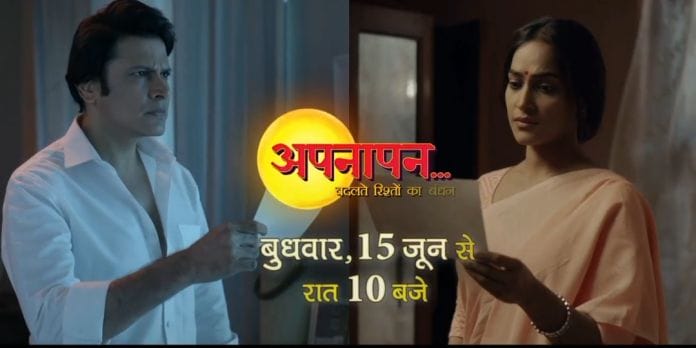 Appnapan 2nd November 2022 Written Update on TellyExpress.com
Episode begins with Nick telling Pallavi how he knows that Pallavi still loves her. Pallavi says no. Nick says so I should not waste my time here and go to Sonali right? Pallavi says yes you should. Nick says okay enjoy here the whole bed is yours now. Nick leaves. Pallavi closes the door and cries. Here, Nick and Shanky are in a bar where Nick doesn't talk but just drinks. Shanky says talk to me only then I can help you. Nick doesn't say anything. Here, Pallavi hears a knock on the door. Pallavi cries and says I don't want you again, go away this door will never open again. Again knock is heard so Pallavi opens the door and says I don't want you here Nick. Dadi is standing there. Pallavi says oh it's you, please come inside.
Dadi makes Pallavi sit beside her. Dadi says I wanted to stop Nick and Sonali's marriage but I could not. I saw you and Sonali before the marriage pointing to a lady. Dadi says I saw you were scared seeing her and then I saw Sonali giving her money, I knew something was wrong so I followed the lady as I felt I had seen her somewhere but I couldn't recognise her. Flashback is shown where Dadi stops the nurse on the door way. Dadi says what were you doing here? Who are you? Nurse says I am a guest only. Dadi says you are lying. Nurse says I am not. Dadi says then whose side are you from? Nurse says that Gagan. Dadi says you are lying, I know Sonali gave you money, let me call the police. Nurse says yes call the police I will also say I was invited as a guest and Sonali got the money but it was actually from Pallavi. Nurse says I will also reveal what happened 18 years ago with that kid and Pallavi. Flashback ends. Dadi says what is the truth of Gagan and Pallavi. Pallavi cries and says Gagan is my son and Badal is Nick's but with another lady. Dadi gets shocked.
Pallavi says 18 years ago, Pallavi delivered Gagan and Sonali also delivered a baby, Badal. Sonali left Badal and went so I took in Badal and told everyone they are twins. Pallavi says I have always treated Badal with utmost care as compared to my other kids. Dadi says so Nick cheated? Pallavi says yes Nick cheated on me with Sonali that is the reason we got divorced. Dadi says you kept all this feeling inside you for so many years? You loved so much and Nick did this to you? I can't believe it, I always had a feeling you didn't feel like continuing the marriage but I was so wrong. Dadi says I was upset from you from past few days but I didn't want this to happen.
Dadi says you could have told me we could have stopped the marriage. Pallavi says I didn't want Badal to know he was unwanted, he is very sensitive and he would break, if the kids would have know the truth their relation with Nick would have been ruined. Dadi says you love your kids and family so much, no one can take so much silently like you have done it, I am sorry I doubted you and even though I felt something is wrong I couldn't stop the marriage thinking of Nick and family name getting ruined. Here, Nick says how can Pallavi do this to me? Shanky says leave all that, the truth is today is your first night with Sonali. Nick gets sad.
Here, Pallavi tells the story of how Pallavi gave birth to Badal on a rainy day. Pallavi hears a baby's cry so she asks the nurse. Nurse says the mom left the kid and went. Pallavi gets shocked then Nurse informs her the parents name to be Sonali and Nikhil Jaisingh. Dadi says you did everything so selflessly, you must have felt very weird seeing Nick after all that happened in past but you still let him in your life for your kids and me. Dadi says I wish I could do something for you. Pallavi gets emotional and looks on. Here, Nick comes to the hotel room and sees Sonali. Sonali gets happy seeing her but Nick goes out again.
Episode ends.
Precap – Pallavi asks Dadi to take care of all her kids as she is leaving. The kids are shocked to know Pallavi left and went somewhere. They all get worried and emotional.
Click to read