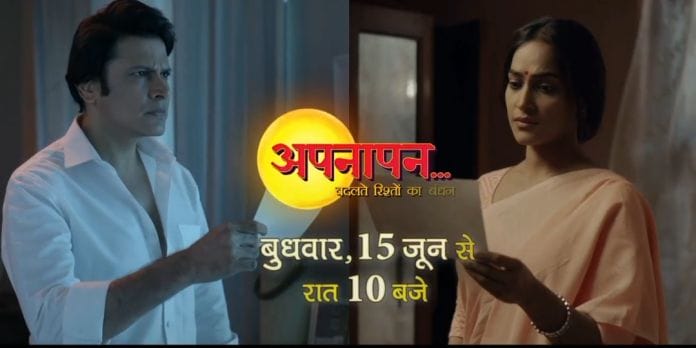 Appnapan 30th August 2022 Written Update on TellyExpress.com
Episode begins with Pallavi asking Badal whom was he thanking? Badal says a friend said yes to give notes. Pallavi says get ready, let's go to cafe. Badal says my friend has asked me to come today to take notes for group study. Pallavi says okay, studies first. Badal thinks I feel after meeting Sonali mom and dad will come together for real. Here, Nandita talks to Dadi about how all arrangements are done and come soon. Dadi says today I am coming with my Bahu. Nandita thinks it will be fun if your Bahu will stay your Bahu after today's visit. Nandita ends the call. Nandita sees Ranveer do arrangements so she suggests him to do something for the entry as well. He goes to prepare it. Nandita asks the assistant to make sure the dhol plays as soon as Dadi comes.
Dadi and Pallavi come and dance to the dhol. Pallavi praises Nandita. Nandita looks at them and imagines the future. Dadi dances and praises Nandita for doing so good arrangements. They get seated. Nandita asks the assistant to bring Ranveer. Ranveer gets ready and thinks to come. Some staff come with plates with red cloth and staff say it's for Pallavi as shagun. Dadi and Pallavi are shocked. Pallavi opens it and sees the items and asks who sent this? Here, Badal comes to a very shady place with woman wearing black sarees. Badal calls Rajjo and says it's a shaddy place.
Rajjo says I don't know, I just heard she stays there. Suddenly, Badal sees a woman dominating all other women and one woman makes a fuss in eating what is made so she gets pushed. Badal sees her face and is shocked to see Sonali there. The woman tortures them when badal says how can you torture each other? This roti is not worth eating, I will call police. The women surround him while Sonali asks him to run away. The elderly woman head, say you are threatening us at our place? Badal says I have come to take you with me, our family knows and I have informed in Mahavir nagar police station as well. The women back off and Sonali and Badal run from there.
Here, Pallavi asks Dadi if it's from her side? Dadi says no. Ranveer comes while Dadi asks who is he? Ranveer walks to Pallavi and says I don't want anyone to raise fingers on you so I want to make things permanant with you and official. Dadi is shocked. Nandita smiles. Ranveer shows the family bangles and says I want to marry you as soon as possible. Pallavi worries and looks around. Dadi says Pallavi marrying you? Pallavi tries to stop him but Ranveer doesn't stop talking. Ranveer says we can talk for the rest of the life. Ranveer asks for Pallavi's hand. Nick slaps Ranveer. He falls and the bangles also falls.
Nandita is shocked to see Nick. Pallavi is also shocked. Dadi asks Nick why is this guy saying all that? Ranveer holds Nick's collar while Nick says how dare you talk to Pallavi like this? You thought she is alone so you will initiate your move? But I am with Pallavi and you have forgotten how to behave with a married woman. Ranveer says this is your jealousy talking. Nick says I want to tell you how Pallavi is my wife and we are married. Ranveer says Pallavi deserves better than you. Nick shouts at him. The assistant asks Nandita if Nick is really jealous? Nandita says when he doesn't feel for Pallavi what's the use of jealousy. They look on.
Episode ends.
Precap – Badal tells Sonali about Nick and Pallavi being here in Meerut. He brings her home dressed in saree. Nick and Pallavi fight over Sonali again.
Click to read