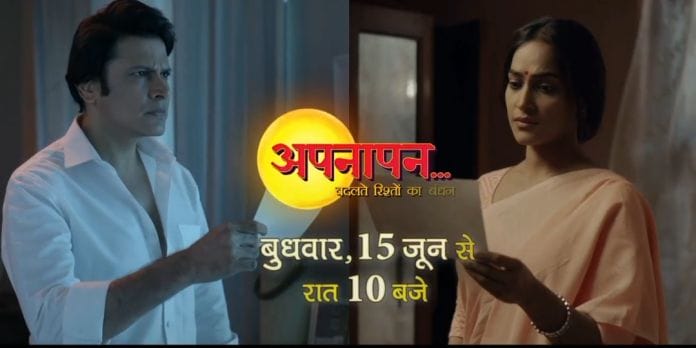 Appnapan 31st October 2022 Written Update on TellyExpress.com
Episode begins with Pallavi saying to Nick that marriage is not a joke, so I have thought it thoroughly and I have decided not to marry you. Nick says you are making a fun of me and my love. Pallavi says I have done enough how can I explain to Dadi and kids how this marriage always gave me stress and sadness, you have always doubted me so I am packing all this, I am happy Dadi knows the truth, now no more drama. Pallavi says I don't want to be in a relationship where I am always questioned. Pallavi says I thought I loved you but I was wrong, I don't love you and I don't want to marry you. Nick says you don't love me? Then whom do you love? Pallavi says you proved it, you didn't take one minute to raise question on my character, no I don't love Ranveer and I don't love you so why should I marry you? If love is there then a person can give his or her life as well but when I don't love you so why should I face all the troubles, now even Dadi doesn't love me and has raised questions on me. Nick says you are lying, the truth is out so why are you backing out now? Pallavi says I have told you my decision. Nick asks if this is your last decision then come with me and tell everyone it's your last final decision, as I won't be the one answering everyone.
Here, Nani is about to go up when Sonali says I will go up. Here, Nick asks Pallavi to clarify the guests and pandit. Pallavi says if I am not marrying you then that doesn't mean marriage won't happen. Sonali comes and says why have you changed Pallavi? Nick says you can go Sonali. Pallavi says wait. Pallavi takes out the mangalsutra and gives that to Sonali. Pallavi says your marriage will happen with Nick today. Nick is shocked. Sonali pretends to be surprised. Nick shouts on Pallavi for being impulsive. Pallavi says this is the truth that Sonali has always been part of our marriage so if I thought of your both's marriage then what is wrong? You can't deny this, I tried to think otherwise but Sonali always kept in between. Nick says again you are doubting everything. Pallavi says even Dadi is liking Sonali more so go and marry her only.
Here, Harsh says Pallavi is creating more drama. Dadi says I agree. Barkha says why is mom doing this? We are so excited for today. Badal decides to go and see. Here, Pallavi says you were so concerned for Sonali all the time and for her health, I am also unwell but you never showed concern to me, I slowly saw it all so it's better if you two get married. Sonali smirks. Pallavi says time has come to part ways. Nick says please understand. Pallavi says maybe it's the best to separate and Sonali was alone for so many years maybe destiny has you two together, maybe you will be happy with her, I will also move ahead then, let's be good friends but not husband and wife. Nick asks Sonali to marry him. Sonali pretends and says what have you done Pallavi? Nick asks Sonali again. Sonali says yes. Badal comes there and is shocked. Nick takes Sonali and goes.
Pallavi doesn't answer any questions of Badal. Nick says to everyone that I am marrying Sonali and she also agrees. Kids get shocked and starts asking him the reason. Pallavi comes there and kids rush to her. Pallavi says you all heard it right. Mana says why are you doing this? Pallavi says we were married for so many years and it resulted in fights so it's better if Nick chooses someone else, our relationship was over back then only due to lots of misunderstanding. Dadi says you have ruined our family name atleast you should have thought of your sister. Pallavi says I am sorry I took lot of time to understand.
Later, Nandini comes with Sonali and asks her how did you turn tablea at last moment? Sonali says there should be some secret between us. Nandini asks Pallavi to keep the dupatta on Sonali being her elder sister. Pallavi does so. Pallavi remembers past moment where Sonali threatens Sonali to convince Nick for marrying her. Pallavi says Nick will never believe this. Sonali says you will have to otherwise the results will be bad. Pallavi asks why are you doing this? Will you be happy with this kind of life? Sonali says I deserve Sonali, you will have to return Nick to me. Sonali shows the mangalsutra and says I have right on this and you will tie our gathbandhan. Flashback ends. Nandita is about to come when Nick asks Pallavi to do it. Pallavi goes and does it. Everyone feels shocked and surprised.
Episode ends.
Precap – Dadi asks Pallavi why did she give her love and family to another woman? Here, Shanky talks to Nick about how maybe Pallavi never loved him. Nick gets drunk.
Click to read