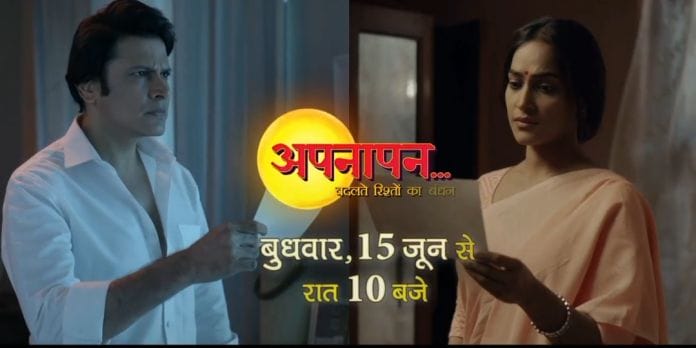 Appnapan 3rd November 2022 Written Update on TellyExpress.com
Episode begins with Pallavi saying how she almost left Badal but then she thought what is the mistake of Badal this child. Dadi says you did a big thing you understood always and always let all mistakes of Nick go. Pallavi says though my kids are still upset with me but if the truth was out then a bigger loss would have happened. Dadi says you have a big heard, hats off to you, I can never imagine the sacrifices you have done. Pallavi and Dadi go to her room to sleep.
Next day, Pallavi sees Sonali come out of her room pretending to be very tired and sleepless due to her first night with Nick. Sonali says it was such an amazing night. Pallavi controls her anger and says good for you. Sonali asks so when are you leaving? I hope you have made arrangements and going today. Pallavi just goes from there. Pallavi comes to her room and gets emotional while packing her stuff. She remembers her time with her kids and with Nick. She gets emotional and cries but then makes herself understand that it's for her family's good.
Pallavi informs Dadi that she is leaving. Dadi says but where will you go? Pallavi says away from Meerut somewhere, just promise me you will be there for my kids and will always help them. Dadi gets emotional and says yes I will. Pallavi goes while Dadi remembers all the moments with Pallavi. Dadi says Nick got such an angel in the form of Pallavi but Nick ruined it all, please help her god. Here, the kids get the letter of Pallavi and get shocked. Pallavi writes to them how they have everyone with them and she needs a break from everything like they take holiday. They cry thinking Pallavi went leaving them. Here, Lolita tries to stop Pallavi but she goes anyway after informing Lolita that it's for the greater good. Later, Someone masked comes to Lolita asking for Pallavi. The mystery person thinks I need to meet Pallavi before she leaves it's very important.
Episode ends.
Precap – Pallavi informs Sonali about someone being after her. At night, someone scared Sonali.
Click to read