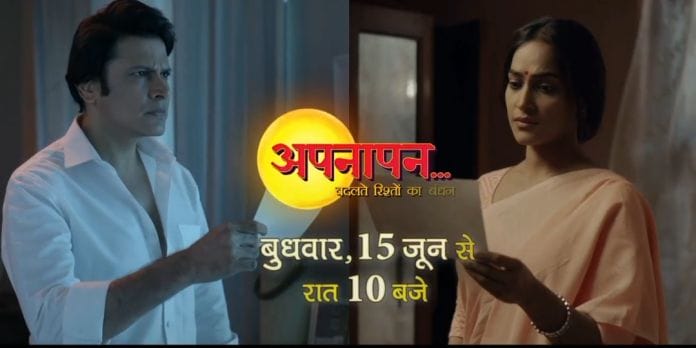 Appnapan 4th July 2022 Written Update on TellyExpress.com
Episode begins with Pallavi, Lolita and Ranveer eating jalebi. Lolita says after so much spice you should eat something sweet, we can see there is pain inside you so cry as much you want. Pallavi asks Ranveer to eat and not to make such sad faces. Pallavi says look at me I am struggling at every stage, kids already used to hate me and now with Nick in picture they hate me more, when I have nothing I don't feel the fear of losing. Ranveer says let's go home. Pallavi says yes. Pallavi pays and they go. Pallavi stops and smiles listening to her favourite song. Ranveer thinks if Pallavi doesn't come then Nick will take a legal action.
Later, Pallavi thinks I am not scared of her legal action. Pallavi comes to Barkha whose room is a mess. Pallavi says you have a face mask? Barkha says my life is a mess and you want face mask. Pallavi says earlier you had issues with me going after you now that I don't you have issue again. Pallavi says see I am giving you yout own freedom so wash your clothes. Barkha says my marriage has broken. Pallavi says call Ishan, don't take your anger on him, you don't get such gems easily. Pallavi goes.
Here, Gagan is upset and angry on Harsh. Her friend asks her to calm down as he won't be able to do much. Gagan says Meerut is my place I will show him. Gagan calls someone to come at 11pm. Friend's mom takes her saying don't talk to Gagan he went to jail. Gagan thinks I will take my revenge.
Later, in the restaurant Nandita and Nick are greeting guests. Nick goes to kitchen and finds Badal. Badal says I am here this is my first day. Nick says you will have a good experience. Nick is about to leave when Badal shows Nick his own recipe which he has not showed to Barkha. Badal asks Nick to taste it. Nick says what have you made. Badal says so sorry. Badal and Nick say how a bit spicy is needed in sweet. Nick asks Badal to add it on the menu and teach other cooks too. Badal says thanks. Nick says you can call me dad. Badal gets emotional.
Nandita listens to them. Nick teaches Badal how to toss a wok. Nandita thinks this bond won't last for long. Nandita shows it to Harsh. Harsh says I won't let this happen. Nandita smirks. Here, Gagan packs hockey stick and Barkha sees it. Barkha feels something is wrong. Pallavi and Nani notice Gagan go with a bag. Pallavi asks where are you going? Gagan says there is something urgent. Pallavi says cricket at this hour? Gagan says yes. Gagan leaves. Barkha is about to tell Pallavi when Pallavi gets Badal's call. He asks her to come fast and fix the problem, someone has thrown the food. Pallavi asks where are you. Badal says Amma's kitchen. Pallav rushes.
Barkha says Gagan took the cricket stuff, he is upto something. Maa worries. Nick sees the kitchen messed up. He asks Badal to clean this and start it from scratch. Badal nods. Nick says I trust you, you can do this. He goes out. Bua and Harsh stop him and argue. Harsh says I m not a kid, I m handling your business in US. Nick says I m doing a father's responsibility here. Harsh says wow, you are so good. Nick says it will take a month time to set up things, you can go to US. Harsh says we can't let you forget our right, we will not go back to the US. Nick goes. Bua says I also have some responsibility, Nick will go to US today. Harsh goes.
Episode ends.
Precap – Nick greets the guests when Shanky scolds Badal. Badal tries to explain how he didn't do it. Gagan beats Harsh while Barkha tries to tell Pallavi about Gagan's motive.
Click to read