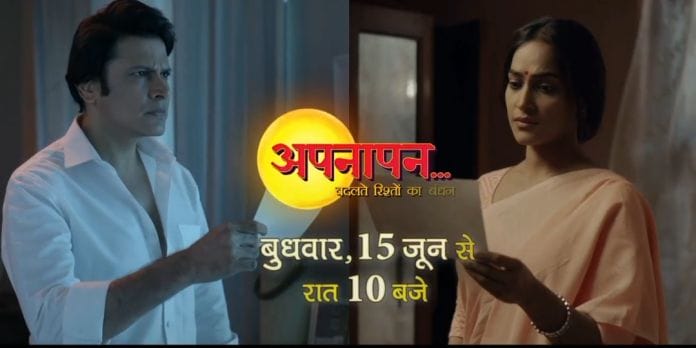 Appnapan 4th November 2022 Written Update on TellyExpress.com
Episode begins with Badal saying how can mom go? Nick comes and says Pallavi must be enjoying someone else's company. Dadi says how can you say that? Nani and Dadi cry when Sonali comes and pretends saying I was looking for Pallavi from so many days but couldn't find her. Nani days Pallavi must have been hurt. After one month leap, Diwali is shown. Nani and Dadi get emotional remembering Pallavi. Nani asks Dadi why was she upset from Pallavi and then suddenly she again forgave Pallavi? Nani blames Dadi for being the reason due to which Pallavi left. Dadi is sad and silent. Dadi thinks I can't tell her the truth as Pallavi made me promise. Nani says Pallavi respected you much more than me. Dadi says I know.
Here, Sonali is talking to Nandita on call saying you should have been here for cards party, Dadi wanted to do traditional puja but I kept this party, it was so much fun. Just then someone knocks, Sonali goes to open the door. Sonali says Nick you should have been in the card party, my friends wanted to meet you. Nick says I was busy, I should have been there. Sonali says I am going to dinner with friends will you join? Nick says today is not possible as I need to give diwali advance to staff. Sonali says okay, also, as Badal will turn 18 so will you make cafe officially in his name? Nick says I will think about it and talk later. Nick goes. Sonali goes back to call and says see Nick was complimenting me. Nandita says I knew it, after Pallavi leaves Nick would love you.
Here, Dadi says Sonali doesn't care about anyone and is always into herself only, today she didn't even light the diya in mandir. Nani also shows disappointment in her and says the house is filled with alcohol and cards everywhere. Sonali thinks it's for the best Pallavi left wherever she went. Nick is leaving when Dadi asks him to come soon. Nick says I will try. Dadi says our laxmi and light are lost when Pallavi left. Nick doesn't react and goes. Later, Sonali comes to Dadi and Nani and ask them for a help. Sonali says can you guys clean up the house as I am very tired. Sonali goes. Nani says I can't believe Sonali is making you and me work for her. Sonali is counting her money when Nani and Dadi come. Sonali says why are you disturbing me, I was counting how much I earned from the card party. Suddenly, Pallavi comes in.
Sonali is surprised to see Pallavi. Pallavi is in a new get up and more confident. Sonali is upset seeing her and says what are you doing here? Pallavi says I have come for Diwali. Pallavi hugs Sonali. Pallavi says so how are you enjoying the life you stole from me? Sadly I don't see Nick with you right now even on Diwali. Pallavi taunts Sonali while Sonali sulks. Sonali says you can't come like this any day. Dadi says Pallavi has the right on this house don't forget that. Dadi says let me cook for my daughter. Sonali gets more angry. Pallavi says no you guys don't work, let me and Sonali play a game of cards and whoever wins will clean the house.
They both start playing cards and every round is won by Pallavi which makes Sonali more upset. Sonali loses all her earning. At last, Pallavi says let's bet Nick's wallet. Sonali gets good set of cards but Pallavi gets the highest so she wins it. Pallavi, Dadi and Nani then go for puja while Sonali sits there all frustrated. Pallavi, Dadi and Nani do the aarti and puja. Nick comes and is shocked to see Pallavi. Nick thinks of all the past moments where Pallavi denied to marry him. Sonali comes there so Pallavi gives Sonali the aarti thaal and goes. Nick goes without saying anything. Dadi and Nani go to some neighbours house. Nick asks for his wallet when Pallavi gives him the wallet and says how she won this as a bait from card game with Sonali. Nick leaves being upset. Sonali asks Pallavi why is she here? Pallavi jokes and doesn't answer her question.
Episode ends.
Precap – Pallavi warns Sonali about someone being a threat to her life. Sonali gets scared by a mystery woman at night.
Click to read