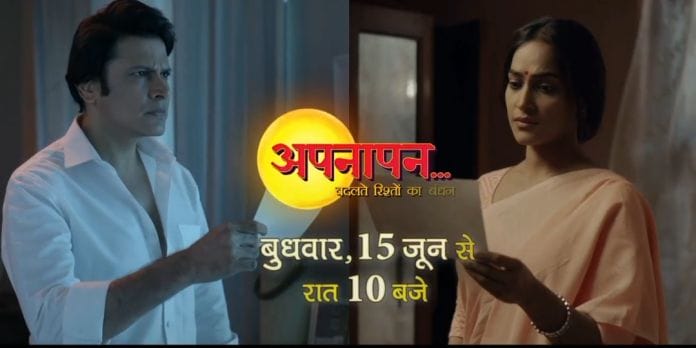 Appnapan 7th November 2022 Written Update on TellyExpress.com
Episode begins with Pallavi asking about the kids. Pallavi says kids should know I am here with luggage. Sonali is shocked to see Pallavi's luggage. Nick blames Pallavi for ruining kids' lives due to which no one wanted to be here for Diwali, now what do you want? Pallavi says I want rest, I always struggled raising the kids and focusing on their career and you focused on your career and enjoyed life all this while so you have all the money while I lost all my money, I have realised money is important to enjoy life. Nani and Dadi hear this when Nani gets shocked listening to her. Dadi asks her to calm down. Nick says fair enough, I will pay you, Sonali bring my cheque book. Sonali thinks what if Pallavi takes all of Nick's money. Pallavi says my lawyer will come here with all the details and the paper work will take one month. Sonali worries.
Pallavi says also I want the cafe in my name. Sonali worries and says but Nick you said you will give it to Badal. Nick says no, it will be Pallavi's as it was her and she built it. Pallavi says great, and paper work will take time so till then I am sleeping with mom. Nick goes. Sonali gets upset.
Later, at night, Sonali is sleeping when Pallavi comes to wake Sonali and takes her aside. Pallavi says when I left the house someone started following me threatening me for my life. Sonali says so place a complaint in police station, why are you behind me? Pallavi says because that person who wears a black hoodie and has a tatoo, is threatening to take Nick's life as well and that person knows you too. Sonali says you are doing this to threaten me and take things from me. Pallavi goes, Sonali gets a text she thinks it's from Sonali. Sonali thinks why is Nandita messaging me from another number. Sonali goes out to see when a person attacks Sonali when Pallavi saves her. Sonali sees the tattoo and says is he back? No this can't happen. Pallavi says so you know him?
Sonali and Pallavi sit inside when Pallavi says so it's because of you my family is in danger? Sonali says it's not your business I will handle it. Pallavi says so let me tell everyone it's because of you they are in danger. Sonali requests her not to do so. They both go to sleep.
Next day, Sonali wakes up late by the time Pallavi and everyone finish their breakfast. Pallavi says you woke up late so I arranged breakfast for all. Sonali says you drugged my water yesterday? Pallavi smiles and says I am not like you and if you are forgetting, I saved you yesterday. Sonali says why are you here? Just go away from my life. Pallavi says not that easily, it's because of you my family is in trouble and you have my most precious thing with you so without that how can I leave. Sonali gets irritated while Pallavi smirks.
In the cafe, Shanky and Lolita talk to Nick regarding some new decor for cafe. Nick says Pallavi is back. Lolita says so now? Nick asks Lolita if she knew this? As she is her best friend. Lolita says no. Here, in the house Sonali is taking a bath when Pallavi comes to her room and finds for some papers. She finds a envelope stating that Nick and Sonali want the house and cafe both to be named under Sonali's name. Pallavi is shocked and takes the envelope and leaves for cafe. Later, in the cafe, Pallavi comes and asks Nick what were his plans for cafe. Nick says it's not your yet so you can stop investigating. Pallavi says still I wanted to know. Nick says I wanted to give Badal this cafe. Pallavi says as Badal is not 18 yet so who will get the power of attorney. Nick says it's not you, it's my wife Sonali who handled everyone when you left leaving a letter behind as she is the guardian of Badal. Pallavi says you will have to name the power of attorney in my name. Nick says it's shocking to see this side of yours, everyone always said you were after my money but today I am actually seeing it, about the power of attorney, you can talk to my lawyer about it. Pallavi says I want to discuss it with you.
Episode ends.
Precap – Nick asks Pallavi what is she hiding from the day of the wedding? Here, Sonali screams getting a threatening chit of paper.
Click to read