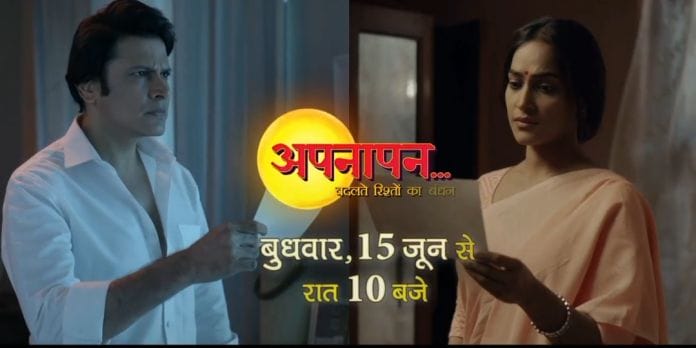 Appnapan 8th July 2022 Written Update on TellyExpress.com
Episode begins with Pallavi saying I will not obey your contract, you will take me to court then do it. Pallavi says I am not afraid of you. Pallavi starts to leave when Nick stops her and says you can't go like this, your stubbornnes bothers me. Nick says I used to hate you for all the things you told me, I used to love you a lot. Flashback is shown where Pallavi and Nick get wet in rain and get romantic after getting wet. They get intimate. Nick says for me rain will always mean you and our kids. Pallavi says we already have many. Nick says we will have more. Flashback ends. Pallavi leaves. Nick sees Pallavi's earrings fall. He picks it.
Later, Pallavi remembers Nick's word while Nick sees the earnings and thinks of Pallavi. They both think of past days with each other and kids.
Next day, Lolita and Ranveer talk about Pallavi handling the kitchen so well. Ranveer says there is no comparison of Pallavi, but it seems Nick and Pallavi has things between them. Lolita and Ranveer get to know Nick is here so they see him from a window. Lolita takes Ranveer away and says if Nick leaves our company we will be doomed, you go and talk to him. Lolita says just don't talk about Pallavi at all, this is our perfect way to know about Nick and his intentions. Lolita pushes Ranveer into Nick's room.
Mana puts cream and then Barkha comes and says you are not allowed to use my things. Mana gets a message from Ishan when Barkha sees it. Barkha breaks a vase and takes the letter. Mana tries to stop her when Barkha takes the candle and burns the letter. Mana takes the letter when Barkha asks her to leave. Pallavi goes to their room so they pretend to sleep. Pallavi caresses them and goes. She gets happy to see them bond.
Pallavi goes. Mana and Barkha make a deal to not tell Pallavi anything. Here, Ranveer asks Nick why is he in tension when everything went so well. Nick says the other name of wedding is stress and women always lead to stress, you have anyone in your life? Ranveer is drunk and remembers Pallavi. Ranveer smiles. Ranveer says she is different from all.
Nick says at one look I could see you are in love. Ranveer says I love her very much. Nick says cheers to love. Nick asks who is she? Ranveer says you know her. Ranveer remembers Lolita asking her not to say Pallavi's name. Ranveer says Lolita. Nick says go tell her, she is very amazing. Ranveer says she is amazing but Lolita. Nick doesn't let him speak and assumes he loves Lolita. Nick asks how is it? You should confess.
Ranveer says but kids always brings complictations. Nick says about his kids and how he was always distant from his kids, I have met a lot but a person who can talk by heart I have not seen, I have not got a person to share my thoughts with, from past 20 years. Ranveer says you know, I won't let it happen to myself. Nick says obviously will not let you, you should never suffer alone you should suffer together. Nick says you must tell her that you love her. Ranveer smiles. Nick goes. Ranveer thinks I will tell Pallavi that I love her.
Episode ends.
Precap – pallavi is in the temple with her daughters. Ranveer comes to propose Pallavi. Just then Nick comes.
Click to read