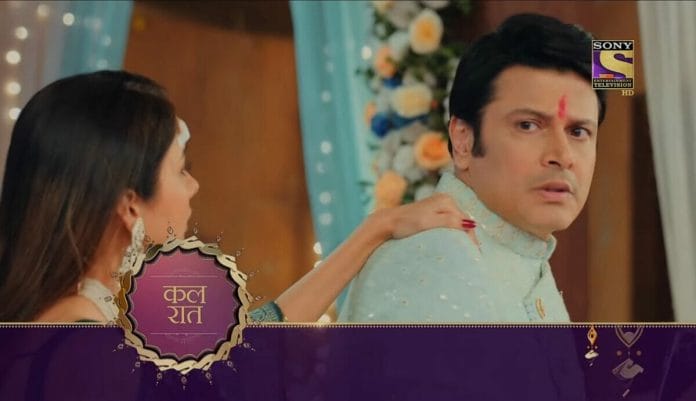 Appnapan Spoilers, Upcoming Story, Latest Gossip , Future Story, Latest News and Upcoming Twist on tellyexpress.com
A major game change in Appnapan, Sonali decides to switch sides and leave Badal's side. While the track of the show has become quite interesting, a surprise twist is seen with the entry of Kinno Ma/ Dadi, that is Nick's mom and her announcement of remarriage of Nick and Pallavi, that has shocked everyone.
Previously in the show, Sonali has come back in Meerut and has joined hands with Nandita. Sonali was seen determined to separate Nick and Pallavi this time. Nandita and Sonali will definitely spice up the lives of Nick and Pallavi!
In today's episode, amidst all the drama, Dadi is seen convincing Nick and Pallavi for some puja to make thier kundli dosh go away. Nick is reluctant but after getting emotionally blackmailed he agrees. Mana and Ishan are seen spending some moments together where they start feeling for each other.
Just then Barkha comes home and tries to initiate conversation with Ishan. Ishan ignores her and goes. Here, Nick agree for the puja and gets married to a tree. It is shown how Nandita and Sonali were together since the very beginning and it was all their plan. Sonali gets determined to get Nick by hook or crook.
The day of Sagai comes and everyone does their preparations. Sonali and Nandita are all set to ruin the day for Nick and Pallavi. Kids are excited and doing all preparations. Pallavi decides to make Nick sign a pre nup stating she doesn't want any part in his property as this marriage is just for Dadi's health.
Nick continues to misunderstand Pallavi as he saw Rastogi tell Pallavi to make the custody go in her favour in return of the marriage. Later, the sagai starts, Mana is asked to bring the rings. Mana goes but finds the boxes empty. Everyone worries about the ring.
Pallavi calms everyone and suggests to make rings out of tulsi. Dadi gets impressed while Nick doubts if he has understood Pallavi wrongly regarding the custody matter. Suddenly, they all hear an accident noise outside. Nick sees Sonali injured in the car and picks her up. Pallavi goes into shock seeing her.
Sonali is taken inside and she gets conscious. Nani gets concern for her and scolds her for leaving them all. Sonali tries to hint them all about Pallavi being upset with her but Nick tries to divert the matter. Nick assures that Nani and Dadi don't get to know of the truth.
In the upcoming episodes, Pallavi will see Sonali wear the saree which Nick gave her. Pallavi will be upset and leave the house. Nick will get worried about Pallavi. Nandita will ask Sonali to give support and go close to Nick.
Viewers are definitely in for a big turn of events as Nick and Pallavi abide by Dadi's new wish and announcement. Will Nick and Pallavi's misunderstanding increase further? Will Sonali's true face come out? Keep following this space for more updates on your favourite shows!