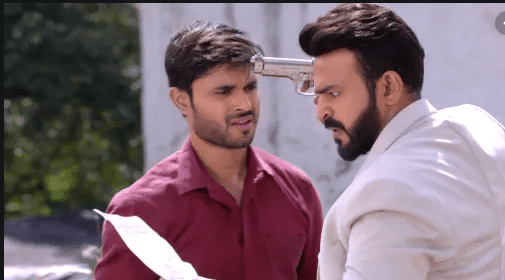 Dusserha celebration in Yeh Hai Mohabbatein will bring high voltage drama in the show.
In the upcoming sequence will see Bhuvan will turn against Arijit and will blackmail him.
Arijit will assume that Bhuvan has turned against him and will threaten to kill him. Later, Sunil will make a shocking remark and Arijit will scold him but Sunil will threaten to send the pictures to the Bhalla family.
Meanwhile Natasha will return after receiving bail and will reach Bhalla house and will taunt them. Raman and Ishita will get hyper seeing her.
Other side, Yug will summit the tender and Raman will feel proud of him. Aliya too will praise Yug's effort and Mihika will tease her. Later, Arijit will go and confront Bhuvan and Bhuvan will reveal to him that he didn't blackmail him. Afterwards, Sunil will blackmail Arijit that if he will not agree with his condition than he will send his pictures to Bhalla's. He will further ask 10lakhs from Arijit and Arijit will agree to give him the money.
Ahead, Raman and Ishita will prepare for Dusshera. Raman will say to Ishita that they together will end the evil and protect their family.
What more will happen in the show will be interesting to watch.
Natasha along with Arijit and Bhuvan will plan to kidnap Shardul/Raman. Do the trios will succeed in their plan?
How Ishita and Raman will handle this situation, well time will only tell, so don't miss watching Yeh Hai Mohabbatein, mon-fri Star Plus.
Stay tuned with us for more news, spoilers and latest updates.