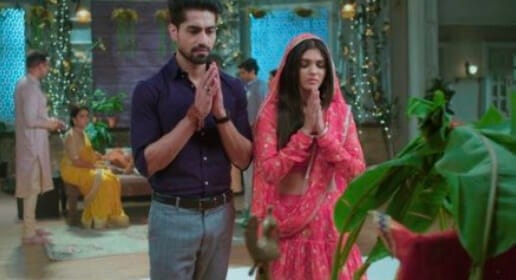 Yeh Rishta Kya kehlata Hai Spoilers, Upcoming Story, Latest Gossip , Future Story, Latest News and Upcoming Twist on TellyExpress.com
High voltage drama in Yeh Rishta Kya Kehlata Hai with Arohi instigating Neil against Abhimanyu
In today's episode, Akshara convinced music director to give her one minute to prove her voice. Director gets convinced. Abhimanyu wishes good luck to Akshara. Neil asks Arohi to understand that he can't take decision on Abhimanyu's behalf. Arohi manipulates Neil to take the decision on Abhimanyu's behalf. She convinced him that he is Birla too and can make the decision. Mahima side Arohi and asks Neil to make the changes. Arohi asks Neil not to overthink and pass the order by doing digital sign. Neil follows Arohi's instruction.
Akshara records a song and surprises the director. Manjiri waits for Akshara, Abhimanyu at veneration She asks Arohi if she told Akshara about veneration or not. Arohi says she invited Akshara. Manjiri wait for Akshara, Abhimanyu. Arohi feels dizzy. Mahima asks Manjiri how long Arohi will wait for Akshara, Abhimanyu. She adds Arohi can't complete her fast until she gives Prasad to Akshara, Abhimanyu. Neil asks Arohi if she is fine. Mahima says Arohi is not habituated to keep fast. Abhimanyu tells to Manjiri that Akshara got the music contract. He says world will know soon about Akshara's voice. Akshara hugs Manjiri. Arohi faints. Abhimanyu, Akshara sees the veneration and wonder.
Abhimanyu, Neil argues with each other post Arohi faints. In the upcoming episode, Abhimanyu will confront Neil about taking decision on his behalf. Both argue with each other. Arohi will manipulate Neil to take up MD position at Birla hospital. Will Neil follows Arohi's order? Time will only tell.
Stay tuned for TV serial latest news