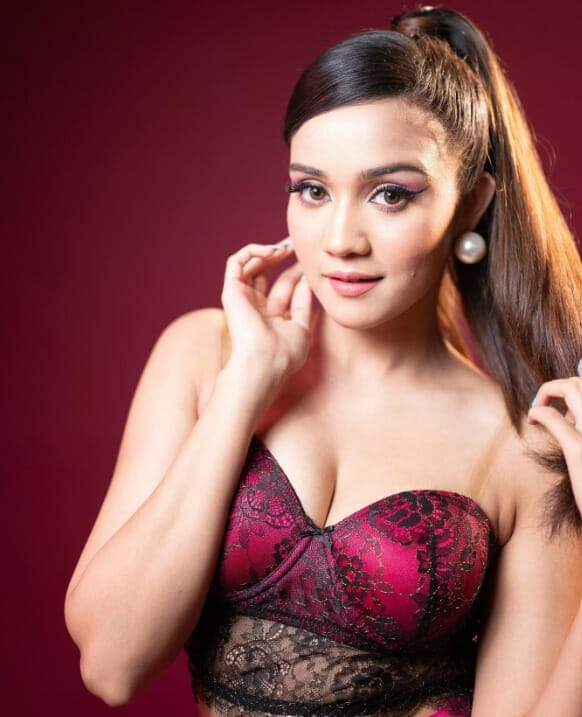 To stand out in the crowd, it is important for celebrities to keep experimenting with their looks, both off and on screen. If we talk about Ashi Singh, who is currently playing Sumeet in Meet Show, the actress's journey started with a boy-cut hair look. She was a fierce character, and to match the intensity, Singh's look was kept as a tomboy.
As Sumeet, she has been given a good look with medium-long hair. Ashi looks pretty on screen. In all her shows, she has rocked with her elegant presence.
But if we talk about off-screen, Ashi is totally different. Her fashionable style and statement are jaw-dropping. Whenever Ashi updates her Instagram feed, she just drops a bomb. It gets hard to take your eyes off her. Ashi's current viral picture is a nude make-up look. Her makeup is the talk of the town. She is growing bolder with each passing day.
Ashi has worn a crop top and added only pearl earrings to complete her look. The nude makeup and highlighted eye makeup are jaw-dropping. No sooner had Ashi dropped her experimental look, fans bombarded her comment section with the best compliments.
One of Ashi Singh's fans compared her to Barbie. Most of them dropped fire and heart eyes emojis. Goregeousness overloaded, pretty, red velvet cake, and beautiful are other chessy compliments Singh received on her latest update.
This is not the first time Ashi has gained popularity. Check out Ashi Singh's top look here:
https://www.instagram.com/i_ashisinghh/
Ashi Singh rose to fame playing the character of Naina in 'Yeh Unn Dino Ki Baat Hai'.
Stay tuned with us for the latest news and updates on TV serials.