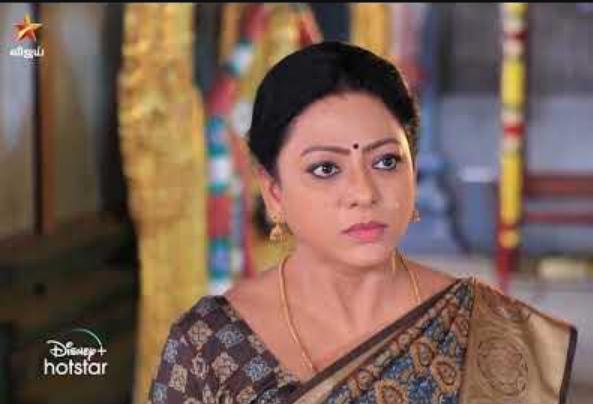 Baakiyalakshmi Upcoming Story, Spoilers, Latest Gossip, Future Story, Latest News and Upcoming Twist, on TellyExpress.com
Vijay TV's popular show Baakiyalakshmi never fails to entertain the audience with its engaging yet progressive storyline. Now the serial focuses on Bakkiya asking for a time to Ganesh. How will Bakkiya talk to the family about Ganesh's return?
In the previous episode, Malini threatens Cheziyan. Cheziyan decided to face Malini.
Radhika returned to Bakkiya's place. Bakkiya learned about Cheziyan from his friend.
In the upcoming episode, Bakkiya will be busy with her new order. She will visit the temple to get the order. Malini will spot Bakkiya in the temple. She will be with the evil move. As usual, she threatens Cheziyan.
Cheziyan will fear the worst and reach her temple to stop Malini from meeting Bakkiya. Bakkiya will get caught in the temple. Cheziyan will seek Bakkiya's help. Bakkiya will advise Cheziyan to stay away from Malini.
Successfully, Bakkiya will complete the order. She will thank Palani for getting her order. She will share Cheziyan's problem with Palani. Gopi will urge Radhika to spend time with him. Bakkiya will be nervous when Gopi brings Ganesh home. Bakkiya will send him and talk to Ganesh's parents.
Bakkiya will decide to share the problem with Gopi. Radhika will spot Gopi and Bakkiya together while speaking. Radhika will inquire with Gopi about it. Bakkiya will meet Ganesh and their parents. She will ask for a time to Ganesh.
How will Bakkiya speak to the family about Ganesh's arrival? Will Bakkiya help Cheziyan? How will Cheizyan avoid Malini?
How will Bakkiya help their children to resolve the problem?
All these questions will be answered in the upcoming episodes stay tuned for more details.