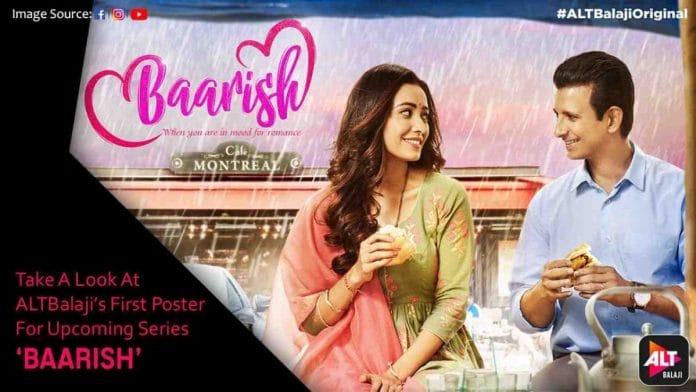 Baarish 11th April 2020 Written Update on Tellyexpress.com
The episode starts with Gauravi calls Aniket and asks him what happened. Aniket informs her that it's just a small clash goes out of hands and asks about Shreya's whereabouts and her video.
Gauravi goes to Anuj but seeing him in a sad mood she tries to leave than Anuj stops her and asks her to stay with him as he is feeling lonely. Gauravi assures him that he is not alone and wipes his tears.
Shreya asks Rishi to not inform anyone about her being participating in the Dubai modeling competition as a wildcard and asks him to see the audio to know how Aniket spoke to her and she reveals that she can't adjust with them. Rishi says I'm with you and wishes her luck.
Gauravi says No-one knows about Shreya in her family. Anuj says she is Cutting my calls. Rishi says I spoke to her and she doesn't want to talk with anyone but talked with me because now she understands her marriage is the wrong idea and Aniket is mistreating her and tries to slap her. Gauravi intervenes saying Aniket can never do it. Padmini asks where is Shreya. Rishi says she is safe with a friend and plays the audio clip forwarded by Shreya.
Rishi and others go to Aniket's place. Rishi holds Aniket collar and questions how dare he to behave with his sister in bad way. Aniket says you don't know a complete truth, won't you feel any mistake from your sister side and you guys are the ones who came to my house with a marriage proposal. Gauravi slaps him saying this is not the way their parents raised them. Rishi asks Anuj to call the police. Aniket says it's not my mistake. Rishi says people like you won't admit your mistakes, I will call the commissioner and then you will know. Anuj stops Rishi and goes from their place to deal with the situation with a cool mind, Gauravi stops because of her mother's request.
At home, Padmini asks what happened. Rishi says Shreya likes is spoiled because of Aniket. Anuj assures Sobbing Padmini that everything will be fine. Gauravi got to know complete truth from her parents how Shreya behaved with them and spoil the situation. Gauravi apologizes to Aniket for misunderstanding him. Aniket says i grown up with 2sisters and I know how to respect a woman, I accepted Shreya's lifestyle but the problem started when she started disrespecting elders, I tried to save our relationship but she wants me to leave my family. Gauravi consoles him.
Rishi emotionally instigates Anuj against Aniket. Aniket says he will go to teach kickboxing until he gets job. His mom says fine and she suggests him talk with Padmini once. Aniket says Shreya left this country because the not small issue, I don't want to meet her family, she must return is after realizing her mistake.
Gauravi tries to tell Anuj about the entire truth but Anuj stops her saying I did a mistake regarding Shreya matter. Gauravi makes him sleep saying he didn't do any mistake.
Aniket's parents go to Padmini's place. Rishi taunts them. Anuj takes Gauravi parent's blessings and asks them the reason behind the sudden visit. They say they came to apologize. Padmini says it's good if Aniket does it. Gauravi says it's not Aniket mistake mom. Rishi says you mean it's Shreya mistake. Gauravi says you don't know the real issue. Anuj asks her to tell the issue. Gauravi reveals that how Shreya wants to move out with Aniket and their issues. Anuj says we can solve his problem right.
Aniket has self esteem and he won't take anyone's help. Anuj's questions are Aniket's self-respect is bigger than my sister's happiness. Rishi says it's ego. Gauravi says both are responsible then why everyone is blaming Aniket. Anuj says you're taking Aniket side. Gauravi says she is telling the truth, not taking any one side, I know about my Ani.  Anuj says Shreya is unhappy because of Aniket's stubbornness. Gauravi says it's the reality of Ani and Shreya married him knowing it. Anuj says as a brother km with my sister. Gauravi says I'm with my Aniket.