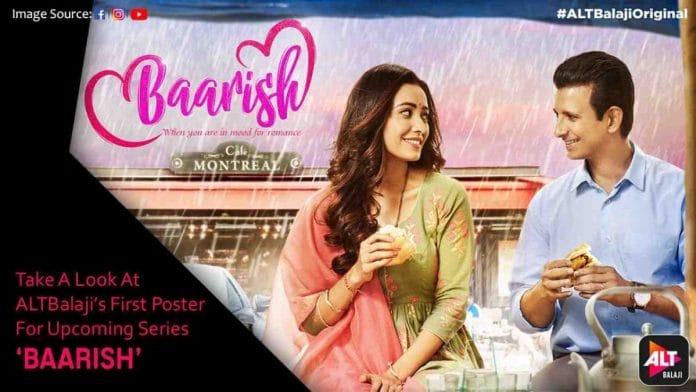 Baarish 13th April 2020 Written Update on Tellyexpress.com
The episode starts with Anuj sleeps avoiding Gauravi but seeing her struggle with window, he helps her. Gauravi sends message to someone. Next day At dining table Rishi accuse Gauravi why she contacted Shreya and asking her for patchup when Shreya denies to talk with anyone. Gauravi says I thought she might be cool down that's why I messaged her. Rishi says I know about my sister and we care for her and he asks Anuj to tell Gauravi because Shreya needs some space, not problems. Anuj says Rishi is right, It's better if we fivd her space. Rishi leafes saying thank you. Gaueavi looks on.
Saurab asks Anuj to don't keep any expectations than he can stay happy. Zenia asks Anuj to understand the situation from his partner side to get the solution and Explains him the Gauravi is the best thing that ever happened to him.
Anuj helps Gauravi when she about to slip. Gauravi says sometimes it's difficult to balance relationships, now you're in tough phase and maybe someday you have to choose between your wife and your sister. Anuj says nothing like that. Gauravi says I know it, you can't hurt anyone, that's why I don't want to see you in complicate situation that's why I'm leaving. Anuj gets shocked.
Anuj says I know mistake can be from both of our siblings but why you want to leave this house. Gauravi says I can't see you in hurt mode that's why. Anuj says is it necessary to go, won't we have any other idea. Gauravi says don't know whether it's good or bad, only time can decide it.
Gauravi family members looks worried seeing Gauravi at their place. Anuj and Gauravi misses eachother presence. At marine police station, Lawyer says Anuj chooses his sister side avoiding you. Gauravi sats love js complicated and it's our mutual decision, if he didn't choosed his sister side than maybe I wouldn't have loved him the way I do now.
Lawyer says what's the use ,after so many days of separation you still taking his side, I don't know what to say, you know he is same man because big whom you're here in jail. Gauravi says she is not going through this pain alone and she can still feel his love. Lawyer sighs with her explanation.
Rishi asks bro why you're behaving like a lost lover, it's been 3weeks. Padmini asks him to get a grip and reminds him about their Mehta diamonds event which he needs to attend. Rishi says all promoted employees are coming including Gauravi. Anuj says let him think.
Gauravi says to her mother that she is going as employee and Anuj will be at meeting as a boss. Aniket asks Gauravi to wish him for his first day at job. Gauravi wishes him. Gauravi vehicle gets damaged in the way, she waits for other taxi. Anuj sees her and asks her to come with him so he can drop. Gauravi tries to resist but finally agrees and on the way both talks about their parents and other things.
Both reaches to their respective positions at event. Rishi asks their employees to make Model no 6 as shows topper. They asks what's real motive. Colleague asks Gauravi to sit with Anuj. Gauravi says she can't because he is her boss. Ramp walk starts. Rishi introduces Asma as showstopper. Gauravi gets shocked.