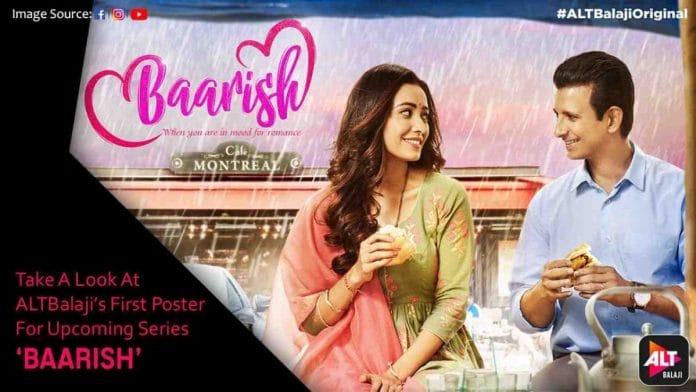 Baarish 8th April 2020 Written Update on Tellyexpress.com
Episode starts with Gauravi makes Anuj to talk with her in English. Padmini says ready to go to office. Anuj gets surprised and asks you're talking in English. Padmini says according to Gauravi it's good if more people communicate with you in English. Anuj wishes her have a nice day and leaves.
Padmini gets shocked seeing Shreya in swimming pool and question her what's she doing here. Shreya says I cane here for a bath. Padmini asks their is shortage of water at your sasural? Shreya says they lacks in everything. Padmini says it's needed to adjust after marriage. Shreya says I just want Aniket to stay here with me. Gauravi overhears their convo.
Gauravi parents discuses that expenses are increasing. Aniket looks sad and his parents asks him what happened. Aniket reveals that he lost his job, his parents gets shocked. Shreya returns to home and hugs Aniket happily and asks him to take her for Shopping and dinner. Ani sighs and leaves inside without answering her. His father informs her.
Shreya assures Aniket that she is with him and informs her friend Rohini that she can't come with them for bali trip. Rohini suggests Shreya to take her brother help and convince him for trip. Shreya agrees.
Next day Gauravi didn't find Anuj beside her and searches for him. She notices note. Gauravi asks Padmini that why he went out on his Birthday leaving note and not attending calls. Padmini says every year he leaves in this way on birthday.
Shreya says Ani I can't see you in sad way, suggest him it's better if they join K and Rohini Bali trip. Aniket gets angry and says i lost my job and you want to roam. Shreya says it's just job, we dant stop our living. Aniket says because of my salary we used to pay all the bills of house, if I don't have job than think how will I pay. Shreya says my elder bhai can help us to get a house, leave about Bali, can we go for Amsterdam. Aniket asks her to roam anywhere leaving him and warns her to not to talk with her brother about their finance issues. Shreya gets frustrated.
Gauravi reaches to orphanage and asks did Anuj come to orphanage. Care taker says yes he just left and he spends time with kids giving them gifts and he always dontes the money. Gauravi says I got to know it from office. Gauravi asks when he left. Caretaker says 15m back. Gauravi calls driver and but he denies to reveal Anuj location. Gauravi listens trains sound while talking with driver and reaches to Anuj location and gets shocked to see him participating in boxing competition.