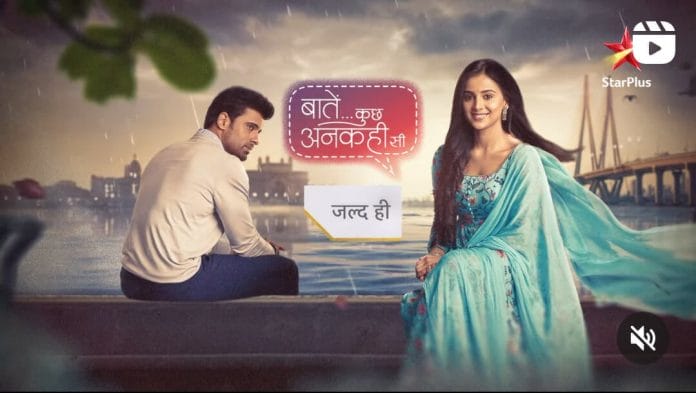 Baatein Kuch Ankahee Si 11th November 2023 Written Update on TellyExpress.com
Episode starts the Vandana who is preparing herself for the celebration of Diwali. But a fearful feeling is extinguishing her confidence. Whenever she reminds her painful betrayal she recalls the motivational words of her father, Kunal, Tara and gathers up the confidence again. She makes sure that she will collect all the positive ingredients to make her life meaningful. Standing up, Vandana decides to give some in her neighbour'e house as they have forgotten to lighten up the lamps due to their hustle bustle.
As soon as, Vandana proceeds to the house of Kunal, she notices that Kunal is coming towards him being intoxicated. The instability makes Kunal more arrogant and goes to extinguish the fire. But Vandana doesn't let him to do that. Being inebriated, Kunal regards her as Soniya who betrayed with his trust. Holding her tightly, Kunal confronts her repeatedly why did she break his trust.
The proximity and anger makes Vandana very uncomfortable and afraid. She repeatedly says that she is not Soniya. But befuddled Kunal doesn't understand what he was doing and continues his accusation to Soniya. After seven years, Kunal has come to know that he has his own blood, his own daughter Tara which breaks him down in million pieces. He didn't even witness the childhood of Tara, he failed to be the father of Tara, he didn't even hear the first voice Tara as an infant. After vomiting all the arrogance towards Vandana, Kunal losts his sense and falls in the lap of Vandana. Mrunal records their proximity in her mobile phone which will give her proof.
When Vandana struggles to pick up Kunal with her own strength, Tara comes to help her. They both slowly brings Kunal into the home. Lying in the couch, Kunal falls asleep. Vandana asks Tara not to disturb him. Tara helps him singing a lullaby or putting off his shoes. She also kisses him or hugs him. Kunal also hugs her out of his love. Vandana overwhelms seeing their bonding and togetherness.
Episode ends.
Precap : Kunal will get back his sense but seeing his daughter Tara, lying next to him, he will hesitate to touch her. But her innocent face will melt all the ice of his heart and will cover asleep Tara with a warm cloth. On the other hand, Vaibhav will hatch another plan to defame the relationship of Kunal and Vandana.
Click to read