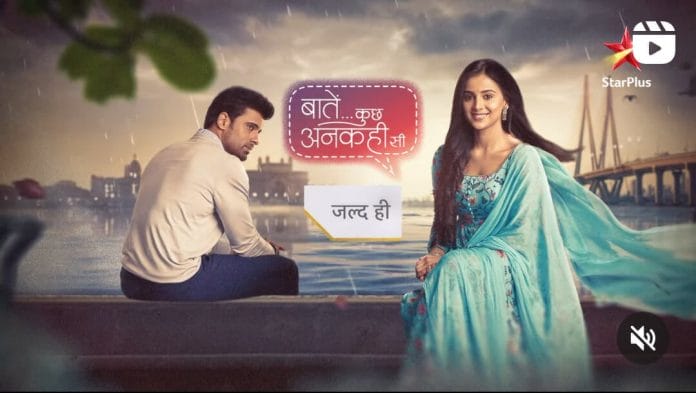 Baatein Kuch Ankahee Si 15th November 2023 Written Update on TellyExpress.com
Episode starts with the successful outcome of the meeting which Kunal arranged for the contract of their company. The brave and mind-blowing presentation of Vandana helps to finalize the deal and her confidence also utterly surprised both Kunal and Bobby. Getting out of the office, Bobby appreciates them as a team and cheers them up. Kunal thanks Vandana as she helped him to sign the contract successfully. Vandana forbids him to do so, as in the past, he also helped her a lot. When no one spoke her about the hypocrisy of Vaibhav, Kunal took the courage and tried to say her everything.
Suddenly, Vandana gets a notification in the mobile of Vandana getting a message of Vaibhav. The message of Vaibhav makes Vandana instantly screwed and upset. Vaibhav has demean her in the message and also mocks her with the relationship of Kunal. He asks her to come in the road. Seeing the long face of Vandana, Kunal asks her the reason but Vandana wouldn't give any answer and taking a auto she goes out. Kunal also follows her.
In the midst of the road, Vandana is stopped by Vaibhav. Getting out of the auto, Vandana confronts Vaibhav why he is doing all these dramas, Vaibhav says it's only the starting and shows her the video which Mrunal took when Kunal came to Vandana being intoxicated. The video triggers off the anger of Vandana. Vaibhav gathers the crowd and shows them the video to them. He also defames the name of Vandana. Instantly, the crowd blames Vandana for the illegal relationship with Kunal.
Vandana bursts out in anger and alerts him. But Vaibhav threats her if she wouldn't share her property with Vaibhav, he won't spare her easily. When their dispute gets triggered off, Kunal comes there. Vaibhav promptly mocks the super entry of Kunal. He also threats him if he wouldn't have get the property of Vandana, he would spread the defamation and misinformation regarding the relationship of Vandana and Kunal.
Kunal beats Vaibhav like a beast and throws him infront the running truck. Though, Vaibhav doesn't get injured but he becomes scared with the behaviour of Kunal, and shouts at them that he wouldn't easily spare them. After leaving of Vaibhav, Kunal asks Vandana to board on in his car. Though, Vandana doesn't agree to go with him, but Kunal insists her. On the other hand, Indranil gets angry and irritated as Kunal gets his contract with the support of Vandana. The chemistry between Kunal and Vandana makes Indranil doubtful.
Episode ends.
Precap : Kunal will insult both Soniya and Vandana as they both try to show their right on Tara.
Click to read