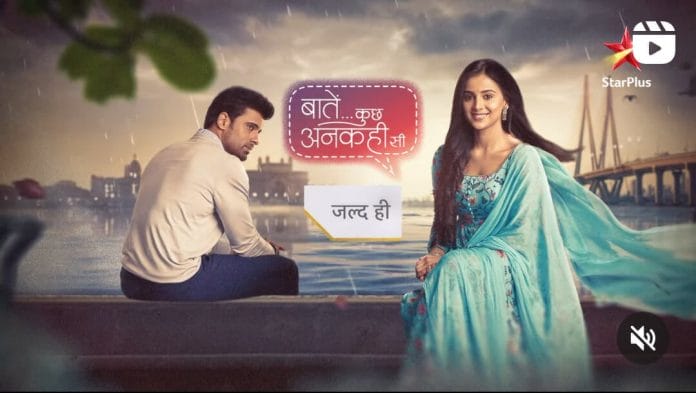 Baatein Kuch Ankahee Si 19th November 2023 Written Update on TellyExpress.com
Episode starts with a dramatic scene in Vandana house. As Shivam was manipulated to tell his grandfather to sell the house, so that they could lead a luxurious life. But Shivam takes the strong stand and clearly says that he doesn't want Vijay to sell the house. When Hamant gets offended seeing the oscillation of hid mind, Hemant goes to slap him. But he is stopped by Vandana. The latter lashes him out as Hemant is behaving with a child. She points out that even a child could realise what he should do and don't, but the elders are accepting the facts.
Hemant again shows his true faces to Vandana and asks emphatically to sell the house. But Vandana and Vijay, none of them wants to sell this bungloww which makes Hemant more angry. He threats that he wouldn't step back, rather he would fight for his right. Vandana also says she wouldn't sell that house until her last breath.
In the evening, both the Karmakar and Malhotra family enjoy their tea party together. Pammi doesn't take from her heart and asks Guneet to attend the sophisticated party. Bobby appreciates the hand made tea of Atya. Meanwhile, Vandana gets a strong electric shock in his hands, but Kunal saves her. He also rebukes Vandana as she herself was doing the electrical works. Vandana herself was trying decorating then. When he realises that she wouldn't stop, Kunal gives her a precaution.
After a while, Soniya and Indranil come there to give some gifts to Tara for Diwali celebration. They call Tara to them and proceeds to give her some fire crackers and new dresses. But as Tara is given already some new dresses, she denies to take it. As she fear from fire crackers, she doesn't accept that too. She forbids to Soniya not to crack those crackers, as it creates pollution. Soniya doubts something fishy is going between Vandana and Kunal.
Kunal forbids Soniya to meet with Tara but Soniya confirms that she will continue to meet her daughter. She also feels jealous seeing Vandana and Kunal together. As Tara has been giving priorities to Vandana, it makes her hurt. Vandana asks her not misunderstand their relationship. Before leaving, Soniya overhears the conversation between Atya and Vedika. They dream Kunal and Vandana would lead a happy life, if they stay together with Tara. Soniya feels immensely jealous and promises she wouldn't let this happen. In the next morning, evryone celebrates Diwali together.
Episode ends.
Precap : Vandana and Kunal will perform together in the diwali party.
Click to read