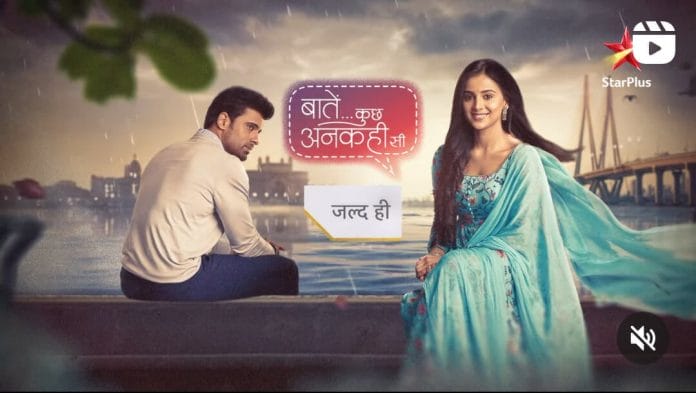 Baatein Kuch Ankahee Si 20th November 2023 Written Update on TellyExpress.com
Episode starts with the celebration of Diwali in the house Karmakar family. Vandana worships the Laxmi maiya singing the prayer. Malhotra also joins the celebration. When they return, Tara requests that she wants to stay with Vanadana for more times. But Kunal forbids her to go Vandana house. Tara appreciates Pammi's beauty which melts the heart of Pammi. Flaunting her own beauty, Pammi permits Tara to go outside. She even encourages others to celebrate the Diwali party with them.
Here, Soniya looks so beautiful that Indranil couldn't help but to appreciate her. But Sonaiya requests Indranil to meet Tara for a while, but Indranil doesn't waste his time on Tara and Kunal. So he disagrees to go anywhere else but in their own party. But Soniya pleas him go to meet Tara for a while.
Finally, Tara comes in Vandana house. Pammi again flaunts her beauty trying to draw the attention of others. Atya and Mrunal mock her beauty which trigger off her vanity. Vedika enjoys the lighting and the postive vibes of the festival. Pammi wishes that Vandana and Kunal will get their partner before the next Diwali festival.
When all the family members of Malhotra and Karmakar family celebrate the Diwali, Soniya and Indranil also attend the celebration. Seeing the earrings of Soniya, he remembers their old days and gets hurt. Once upon a time, those earrings were given by Kunal which pricks Kunal's heart. He comes to Soniya and asks why has she come in this festival. Soniya mocks Kunal's poor face, which makes Kunal more angey.
Seeing Soniya, Tara runs to meet her and hugs her. She seems very happy as her mom has given the surprise coming to meet her. Again Soniya is asked why did she come here. Soniya says that she has come to meet her daughter. Kunal orders them to leave the spot immediately. But Tara also insists them to stay for a while. Indranil agrees to enjoy the programme with them.
When Pammi doesn't get any other way to rid off from Soniya and Indranil, she invites Karmakar family to celebrate Diwali in a gorgeous way. Vandana is insisted by everyone to dance, so that others could participate in the programme. When she denies to dance, Tara also requests her. Finally, Vandana dances so graciously, aftert that, Kunal is also insisted to dance together. Their togetherness makes the evil jealous.
Episode ends.
Precap ; Tara's dress will catch the fire when she will lighten up the lamps. She will shout for the help. Vandana and Kunal will run to save her.
Click to read