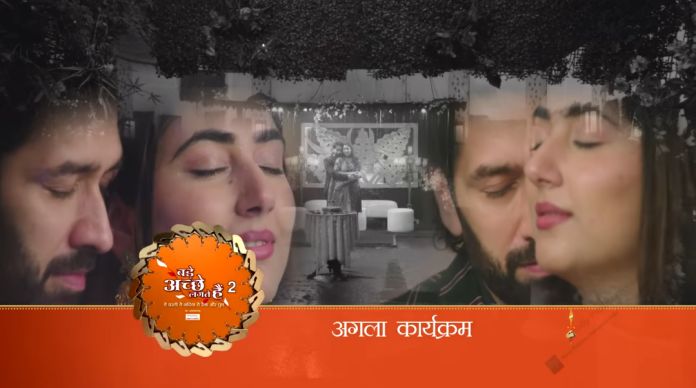 Bade Achhe Lagte Hain 2 23rd June 2022 Written Update on TellyExpress.com
Episode begins with Priya thinking how she got Ram's hatred and feared to come infront of him, I will not let us meet again so that I don't have to answer him things I don't want to. Ram asks for water so Priya gives him while her purse falls down. Before Ram could see her and Pihu's picture, Ram takes his medicines. Adi says Ram I will save you. The lift guy comes and says hurry up the lift will fall down.
Ram says Priya you go. Vedika says you come Ram. Nandini also comes and panics. Shubham says come out or else mom will have an attack. Ram comes out. Nandini sees Priya and is shocked. Ram gives his hands. Ram comes out. Vedika says thank God, are you fine. Nandini asks are you okay. Vedika says lets go, you know what will happen if Nandini sees Priya. The man pulls Priya. Priya screams. Ram asks them to move. He asks Priya to hold his hand, nothing will happen to her. Minister comes. Shubham says minister has come. Ram says forget everything, hold my hand. Priya recalls Pihu.
Ram holds her hand. He pulls Priya out of the lift. She falls over him. Adi helps them get up. Bade acche…plays… Minister asks what's happening, is everything fine. Nandini says Ram rescued someone stuck in the lift. Priya goes. Ram meets the minister. Minister says I came on right time, else I would have not known that you saved someone's life. Nandini introduces herself as Ram's mom and then Vedika as Ram's fiancée. Priya hears this. Minister says congrats. Priya thinks Ram is happy and moving on, I wanted this. Ram thinks she didn't love me, she doesn't care, she chose her happiness.
Pihu says Priya didn't tell me about her prince charming, how shall I make his pic. Priya comes. Pihu asks her for a hug. Priya recalls Ram. She hugs Pihu. Pihu asks how did your prince charming look, I have to make his drawing. Priya says he is different, his eyes are like yours. Shubham and Sandy give the ideas, and support Ram. Nandini thinks I know Ram is upset, but I didn't think much seeing Priya. Minister says this idea will hype your reputation, I think it's a great idea, I believe in astrology, its an auspicious day tomorrow, we will meet at the temple for puja, come on time. They all nod. Minister leaves.
Ram says I need to talk to mom and Vedika. Adi and everyone leave. Nandini says I know what you want to talk, give me a chance to say why I did this. Priya says he is very emotional, he loves his family. Pihu says we are also his family, why doesn't he come to meet us. She says he has a big family, they need him more. Vedika says Ram isn't convinced, I don't want to force him. Nandini says I saw Priya there, I did what I felt right. Ram says it wasn't right.
Shubham says we can't miss this deal, I worked hard to make us look like a loving family. Ram says we are a family, don't you love me. Shubham says of course I love you, it will be good for the company if Vedika and you get together. Vedika says just ask me what I want. Nandini says so sorry, will you do this for my family, Priya has come back to ruin my family, please save my family.
Nandini convinces Vedika and Ram for marrying each other for minister. Here, Priya tells Pihu about how her prince charming is always full of surprises. Ram says no to Nandini to marry Vedika and for minister he can handle things. Vedika and Nandini get upset. Pihu asks Priya if ever prince charming can come with them on adventures. Priya thinks how to tell Pihu it's not possible.Priya recalls Ram making a wish.
Ram meets Adi and Brinda. Brinda says think that you helped some random person. Ram says its not easy to forget, you both know mom's medical condition, am I getting selfish, should I say yes. Adi says you want to marry Vedika for a little deal, how can you think of this. Ram says anyone could have helped Priya. Adi says problem is solved. Ram says mom is stressed that Priya can come back in our life. Brinda asks will you let this happen. Ram says no chance. She says we will figure out some solution. Adi says just keep us aside and think what you want, tell me.
Ram says I want… He recalls Priya and says nothing, I married for Shivi's sake, I thought everything is perfect, all of that was a bubble which burst, today I m here, Priya didn't love me, she moved on easily. Priya thinks your dad is moving on, but he will always be my prince charming, I wanted to give these bangles to you, I don't have any right on it, I don't wear these, I will give it to you when time comes.
Episode ends.
Precap – Priya takes Pihu to temple. Priya meets Ram infront of all.
Click to read