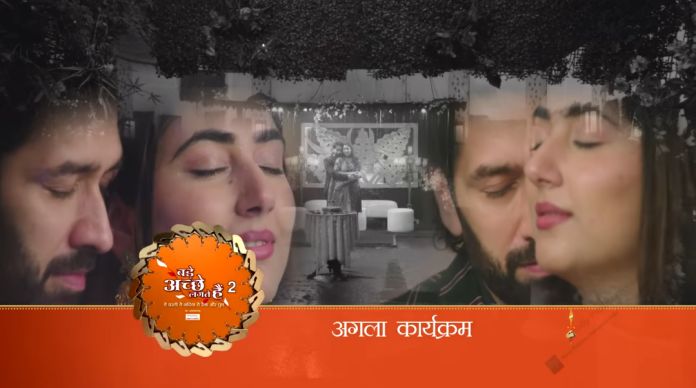 Bade Achhe Lagte Hain 2 4th August 2022 Written Update on TellyExpress.com
Episode begins with Priya thinks that Krish is right. Pihu comes running to Priya and says Ram is very bad, he forgot your birthday and didn't even wish you. Priya says no, Ram is upset because of his mom's health, would you have celebrated if I was ill? Pihu says I won't do the interview also even if you say, I hate him. Pihu runs. Priya tries to chase her. Pihu surprises Priya on the terrace. Priya gets happy and asks wow all this is for me? Pihu says yes. Priya says you did it all on your own? Pihu says he helped me. Priya gets surprised seeing Ram. Ram says happy birthday Priya. Priya says thank you, is media coming?
Ram says no. Priya says do ministers must be coming so I will go and come when they come so they see me surprised. Ram says it's for you and not for any deal, today is your day and no deal in it. Priya gets mesmerized. Pihu says I slept but he came and planned all this. Ram says it's for you and the promise I made to you, promises shouldn't be broken. Priya thinks it feels like Ram has lots of questions for me. Ram thinks I know you have so many questions even I have but will you realise it? Pihu says when Ram talks like this he looks so good. They three smile.
Shubham thinks to do the interview soon. Vedika comes to her and asks what's his next plan? Just then Krish comes and says Priya is being getting some threatening messages. Shubham says what? From when? Krish says you tell me. Shubham says why will I do it? She is helping us so why will we go against her? Krish says I don't know. Vedika worries. Krish says I have given the messages to my friend, he is tracking it.
Krish gets a call and says so you got the number and id? Great, you take out more information I will come to meet you. Vedika says I have to go I don't have time for this. Shubham comes to Krish and says we know that we both don't like each other but I want to help. Krish thinks from behaviour it feels Shubham is not tensed so he must have not threatened Priya then who? Vedika thinks if Krish has started investigating on it so I don't have much time left, I need to do something fast.
Here, Priya enjoys watching pihu and Ram dance and enjoy. They cut cake and feed each other. Pihu thinks Krish must be waiting for me so she goes. Ram also feeds Priya. Priya feels emotional and Ram catches her tears. Ram turns Priya who is emotional. Here, Pihu comes to Krish and lies to him that Priya slept as she said she was tired so they can celebrate tomorrow. Krish says your mom is lying but no issues, thanks for telling the truth. Krish starts to go. Pihu thinks sorry I didn't tell you the truth as for the first time I am seeing Priya and Ram happy, I don't understand why they are sometimes happy and sometimes sad. Pihu thinks to have medicines as she is stressed. Pihu sees Nandini's medicines and eats it.
Ram asks Priya why she didn't marry Krish and didn't give Pihu his name? When she is his daughter. Priya thinks I was and am always yours and Pihu too is yours I wish I could tell you but I can't. Just then Tarun comes and informs them that Pihu fainted after eating Nandini's medicines. They worry and rush. Ram calls Adi and asks to arrange appointment with best doctor. Pihu wakes up and says I was sleeping. Priya scolds her for having Nandini's medicines.
Pihu says it was the same medicine I take. Ram says she is not affected with such high dose, you have made her medicine addict. Priya says no I give her mint. Pihu says what? Priya says min flavoured medicines as you are a kid. Ram says let's rush to hospital. They leave. Priya's phone falls in hurry. Shubham sees this and thinks this is perfect story for making the story more reliable so he thinks of calling media. Later, Nandini finds the phone and messages. Nandini sees the message of Ishan pushing Shivi and gets shocked. She wonders who is sending these messages to Priya and did Ishan really killed Shivi?
Episode ends.
Precap – Priya panics for Pihu's health. Nandini scolds Vedika for taking such big risk.