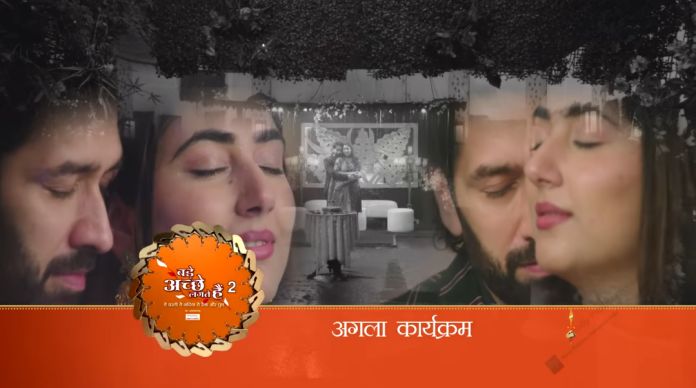 Bade Achhe Lagte Hain 2 7th June 2022 Written Update on TellyExpress.com
Episode begins with Priya cooking and teaching few students at her home. Priya gives life lessons about rain and how rain is a blessing. Priya asks if they have noted everything and did they miss anything? Kids nods. Priya asks them to not repeat the mistakes they have done. Then, Priya asks Aditi why she didn't do her homework. Another child says, her boyfriend left her for someone. The kids talk how Priya will scold her. Priya says it's okay and loving someone is okay but don't take this heart break too seriously. The kids leave. Priya notes down if the bills are taken care of. Priya remembers rent, then she goes to give it. The landlady comes and Priya shows her some leakage issues so the landlady says how she got the flat in less amount of money. So the ladlady asks Priya to take care of it. She leaves. Priya then sees time and thinks it's time for Pihu's school to get over, let me prepare something junk for her. She sees paneer almost over and it's month end.
Just then Aditi comes and gives Priya her phone and how someone is calling her. Priya sees the number and says it's from Pihu's school. A person from Pihu's school says due to orange alert, they are making the student leave. Priya says I am coming. Priya sits in the auto and sees the rain, she thinks Pihu must be upset, she doesn't like the rain.
Pihu is wearing two raincoats and one umbrella. Priya gives her two medicines. Pihu says you are getting wet in the rain it's cheating. Priya says you can also get wet. Pihu says I didn't have my medicines so how can I get wet? Priya says you should sue your bad mother, she didn't give you precautionary medication with two rain coats and umbrella. Pihu says I will sue Ms. Sood. Priya asks Pihu to enjoy rain.
Here, Ram's assistants are covering him with umbrella to avoid them getting wet. Ram says I hate rain. Ram goes to office. Adi says it's 3 am, why are you making your employees suffer? It's cruel. Ram says I pay them so much, they are ought to obey my orders. Adi says see the rain, it's beautiful. Ram says it's too beautiful, every beautiful things hurt like Priya did.
Here, Pihu and Priya enjoy samosa in rain. Pihu praises Priya as the best mother as she plays the role of mom and dad and always takes care of her. Then, Pihu says you should ask help from your friend Krish, he is so good and can help you, we will go to his big house. Priya says okay we will see but no one is going anywhere right now, and why are you calling me Ms. Sood, I am your mom. Pihu says I will call you Ms. Sood. Pihu goes. Priya thinks only her calling Ms. Sood makes Pihu like Priya rest all things Pihu has is like Ram.
On the other hand, Ram fires people who are sleepy. Adi whispers those to go and come on Monday. The employees talk about Shubham saving them all. Ram gets call from police station saying how again Shubham is arrested. Ram startes leaving when Adi says you should talk to Shubham. Ram reaches the station when Shubham says Ram is here because he couldn't save our sister from dying, so he is in guilt, he is my step brother. Adi is about to scold him when Ram says let him be, he is grieving the pain of Shivi's death. The inspector gives the fine chargesheet and says it's happening too frequently so I need to file a complaint. Ram requests him not to and he is ready to do everything.
Episode ends.
Precap – Vikrant proposes Sara. Priya watche it from video call just then Ram enters and sees them.
Click to read